You are here
Home
›
Live Entertainment
› MANNHEIM STEAMROLLER CHRISTMAS 35th ANNIVERSARY TOUR Flattens Expectations ›
MANNHEIM STEAMROLLER CHRISTMAS 35th ANNIVERSARY TOUR Flattens Expectations
FTC Statement: Reviewers are frequently provided by the publisher/production company with a copy of the material being reviewed.The opinions published are solely those of the respective reviewers and may not reflect the opinions of CriticalBlast.com or its management.
As an Amazon Associate, we earn from qualifying purchases. (This is a legal requirement, as apparently some sites advertise for Amazon for free. Yes, that's sarcasm.)
Submitted by

Jeff Ritter

on Tue, 11/26/2019 - 09:57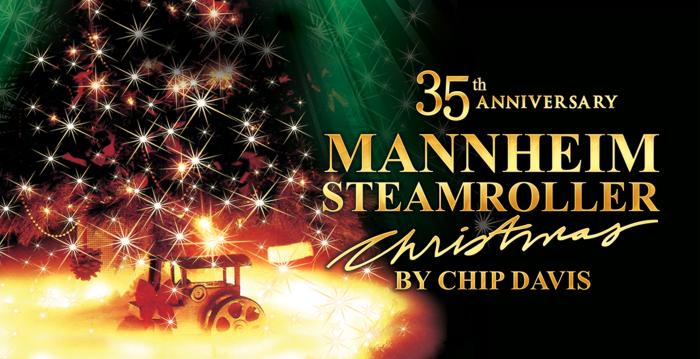 There are certain performers that when you hear their name you automatically think of Christmas. Andy Williams. Burl Ives. Straight No Chaser.  Trans-Siberian Orchestra. Manheim Steamroller. Thirty five years ago, Manheim Steamroller's founder and composer Chip Davis went against the advice of trusted colleges and released Mannheim Steamroller Christmas to popular acclaim and ushered in a new subgenre of holiday music style and presentation. A mix of New Age and Renaissance Festival applied to Christmas classics--what could go wrong?
The 35th Anniversary Tour of Mannheim Steamroller Christmas certainly had style when they played the Fabulous Fox Theatre in St. Louis on November 23, 2019, but the presentation needed updating.  The performance started with a short introduction by Tom Sharpe, who played the drums and recorder in the show. He introduced Mark Agnor on violin, recorder and conductor, Anna Lackaff on harpsichord and synthesizer, Joey Gulizia on percussion and recorder, David Plank on piano and synthesizer, and Glen Cecil Smith on bass, guitar and lute. He acknowledged the other musicians flanking the Mannheim Six--a string section and a horn section, the later obscured by Mr. Plank's grand piano--but didn't name then, and they are not named in the program. I was disappointed that they couldn't take the time to tell you if the supporting musicians were local or not. I understand that at least some of them were borrowed from local theatre groups, independent musicians, or perhaps even members of our own renowned St. Louis Symphony Orchestra.
The show opened with "Celebration" from their Christmas Celebration album, followed by "Hark! The Herald Angel Sing." Other well-known Christmas favorites such as "Angels We Have Heard On High," "Cantique de Noel (O Holy Night)" and "Carol of the Bells" followed. My favorite song of the first half of the program was "Faeries" from their Christmas Extraordinaire album. The first half also featured some odd visuals on the screen behind the band. There was an interpretive dance number performed by a fellow with a slight resemblance with a young Robin Williams, and judging by the dancer's overall look and the 80s Olan Mills production values, it may well have been shot around the time of Mork & Mindy. What the dance had to do with Christmas I couldn't begin to explain. Other videos included an abstract short featuring angels--I thought they were fish at first--and a series of stuffed animals that were somewhat crudely animated and a bit more eerie than festive. The only real vocal performance of the entire program was a song called "Greensleeves" sung by Elyse Davis, daughter of Mannheim Steamroller founder Chip Davis. The song comes from the Mannheim Steamroller Live album though obviously not performed live but delivered through the miracle of retro cool videotape.
The second act is much the same, with old video--VHS, I'd have to guess, judging by the image quality--to distract you from the constant cacophony of the trembling harpsichord and the occasional hammered dulcimer. A little harpsicord goes a long way. Anna Lackaff's harpsichords and sythisizers went to the North Pole and back again, twice. The second half started with "Wonders" from Exotic Spaces, as images of Machu Picchu in Peru played behind the musicians. Again, not too sure what that had to do with Christmas. Perhaps Chip Davis was trying to connect the wonder of the holidays when you're a child to the wonder of exploring a forgotten city concealed by the wispy clouds atop the Andes Mountains? Soon we're visited by Chip Davis himself, founder, composer and original member of Mannheim Steamroller, as he "beams in" with the help of a low budget Star Trek teleporter effect on the big screen. He talks a little about the early days of Mannheim Steamroller, but references CDs as "his" or "my" rather than "our." To the best of my knowledge, Mannheim Steamroller was never a solo act. I suppose as the composer of a mostly instrumental album he could technically claim it as his but it seemed disrespectful not to acknowledge the many musicians who have been instrumental—pun fully intended—in the success of "his" Mannheim Steamroller. The touring members of the Steamroller didn't acknowledge the supporting orchestra and Davis really didn't acknowledge anyone but himself. Frankly, the self-congratulatory gloating irked me quite a bit. 
A large chunk of the post intermission offering was set to a strange video of an English "Yuletide Feast" that was, at best, laughable in its ridiculousness and at worst borderline food porn. A Lord with a scoundrel-like way about him and his bull-horned tressed Lady gorged themselves on grapes, the Lord seemingly oblivious to his companion once he caught the eyes of two young ladies who giggled and swooned every time the fellow snatched another fruit off the dried, woody vine with his teeth. They cut to a scene in the kitchen where a cook was struggling to keep up with the ravenous appetites of the party, and eventually gave up dabbing at a slab of meat with a small basting brush in favor of a modern spray bottle. That bit drew some laughs, but I'm a stickler for authenticity in period pieces. The big Christmas numbers in the second set were "Deck the Halls," "We Three Kings," "God Rest Ye Merry Gentlemen" performed both traditionally and in a more rock style, and finally "Silent Night," my least favorite Christmas song that doesn't involve date rape, gold-diggers or vehicular manslaughter of an elderly pedestrian by an inebriated jolly old elf. Mannheim Steamroller's rendition did nothing to change my mind.
I have to say that I think I liked Mannheim Steamroller more before I saw them live. They are talent musicians, no question, even the ones who aren't recognized by name. The poor nameless string section sounded fine to me, and I kept wondering why they needed Mark Agnor to conduct them when he was so often busy with his own violin and recorder? I don't think he ever once conducted them for an entire song. Professional musicians borrowed from the St. Louis Symphony or local theatre groups--again, can't say for sure, nothing was ever disclosed--can probably handle Christmas classics without somebody gesturing at them. Then again, I have authority issues and abandoned the clarinet after three months in fourth grade because our band teacher thought public school kids playing on rented instruments should still sound like the London Philharmonic, so what do I know? I never paid any attention to her anyway—I was too busy trying to follow the sheet music. Tom Sharpe could also be seen conducting the nameless horn section whenever he had a hand free from his recorder duties.    
If you are already a devoted fan of Mannheim Steamroller, you probably went to the show and had a great time. If you were new to them but enjoy Christmas standards and Renaissance Festivals you were probably delighted. I didn't really dislike the show on the whole and the music is fine--especialy if you're a huge fan of harpsichords, sythesizers and recorders--but the vintage production values were a surprise and the visual content overall was just plain weird to me. The lack of recognition for the supporting musicians, either in print or by verbal introduction, was bothersome. I cover a lot of theatre and even the least important roles are still credited by name in the programs. The ensemble usually take their bows first and then the performers for each bigger part teller take theirs up to the leads, but Mannheim Steamroller's Red Tour (there's a Green Tour making the rounds as well) musicians took their bows first as the local talent simply sat in their unacknowledged silence until finally they were "conducted" to stand. The air of superiority projected throughout the show did not go over well with me.
I'm not sorry to have given Mannheim Steamroller a try, but it clearly wasn't for me and the overall experience completely flattened my expectations. I think I'll stick with Andy Williams, although I hear that Ronnie James Dio did a pretty mean "God Rest Ye Merry Gentlemen" with neither a recorder nor a harpsicord to be heard.