CIRQUE DREAMS HOLIDAZE Brings The Magic Of The Season To Life
FTC Statement: Reviewers are frequently provided by the publisher/production company with a copy of the material being reviewed.The opinions published are solely those of the respective reviewers and may not reflect the opinions of CriticalBlast.com or its management.
As an Amazon Associate, we earn from qualifying purchases. (This is a legal requirement, as apparently some sites advertise for Amazon for free. Yes, that's sarcasm.)
Submitted by

Jeff Ritter

on Tue, 12/03/2019 - 21:04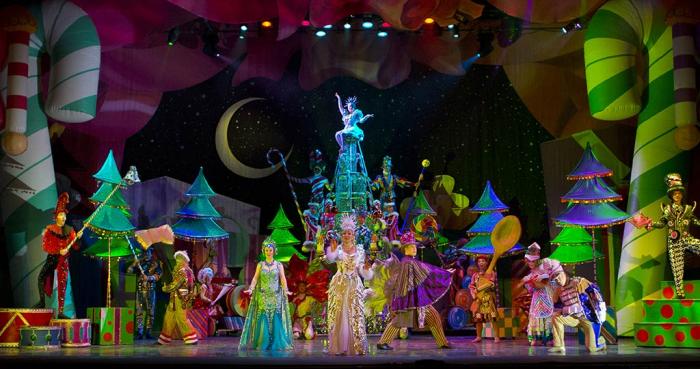 Ah, Christmastime. What fond memories does that word recall for you? Chestnuts roasting on an open fire? The long car ride to visit relatives across town, across the state, or across the country? Perhaps it's the surprise and delight of opening presents, or the heartwarming scent of hot cider and cinnamon to wash down Grandma's legendary Snickerdoodle cookies that you wait all year to enjoy? Maybe it's the annual broadcasts of "Merry Christmas, Charlie Brown!" "It's a Wonderful Life," "Frosty the Snowman," "A Christmas Carol," "How the Grinch Stole Christmas," or even the needless 24 hour marathon of "A Christmas Story." Good grief! For me, it's the circus. "Wait…what? The circus? Explain!" Gladly! You see, it all started four years ago…
There I was, on a cold winter's night in St. Louis, Missouri. Sure, we don't know cold like Minnesota, Wisconsin, Michigan and the Dakotas, our friendly neighbors north of the border or even those unfortunate souls in Cubs Country. Go Cards! Yes, like any diehard baseball fan, I had a serious case of the humbugs. I needed a distraction from the ceaseless onslaught of Christmas commercialism; carols reworded as corporate jingles, stupid kids licking lampposts while their father proudly displays his tawdry major prize in his front window to the chagrin of the neighborhood. I couldn't take anymore. I hastily painted a sign that said, "Hibernating -- Do not disturb until Spring Training 2016!" I was about to lay down for my long winter's nap when what to my wondering eyes did appear? T'was Cirque Dreams Holidaze, and yes there were reindeer (sort of)!
Cirque Dreams Holidaze invites you to experience a dazzling fantasy where your Christmas tree ornaments come to life while everyone is asleep on Christmas Eve. From candy canes to choo-choo trains the stage is filled with familiar looking characters performing feats of strength, agility, flexibility, and balance you would never expect from your holiday ornaments the other 364 days of the year.  One brilliant act after another, sometimes beautiful, sometimes thrilling, paraded across the Fabulous Fox stage, accompanied by the soaring soundtrack provided by vocalists Abby Kurth, Melody Lieberman and Luke Yellin (cast members are American unless otherwise noted).
The acts are varied and while not as bombastic as elephants and tigers and flying trapeze, there is still a pretty thrilling bit of danger involved. Personally, I found the jump rope antics of the Frolicking Reindeers – Ian Henry, Erik Jernberg, Alex Koch-Costa and Matt Scoville – quite exciting, recalling my many horrendous run-ins with that particular piece of gym equipment in my youth. I have all the dexterity of stale fruitcake. I certainly would have no business spinning in space while suspended high above the grand Fox Theatre stage like the talented Ukrainian aerialists Natalia Tsarevska and Oleksiy Tsarevskyy did, or like their fellow countrymen Vladyslav Drobinko and Iryna Galenchyk when they hang elegantly from the trapeze, sometimes only  by their extraordinarily strong ankles. Cirque Dreams Holidaze obviously features an international cast that comes from a variety of cultures, but the Ukrainians were really exciting to watch, be they high above the stage, down to earth like costume quick change artists Halyna and Valery Vakal, or somewhere in the middle where show-stealer Vladimir Dovgan had the audience holding their collective breath as he simultaneously built and scaled a tower of tables, all balanced precariously over a cylinder that could roll out from under the table tower at any moment. The fellow also engaged in a fun bit of audience participation as the Bell Maestro, leading four members of the audience to play a short piece of music by shaking what looked like very heavy bells without any verbal direction. Skate dancing duo Olena Olnieva and Viacheslav Liubivets spun in circles far more elegantly than I ever did at the old Aloha Skating Rink in Bellefontaine Neighbors, the longest-named unincorporated area in America.
The Ethiopian performers of the cast were also highly entertaining, as Melaku Lissanu juggled balls, Elsabet Belayneh juggled all sorts of odd objects with her feet while upside down, and Seife Buser and Abiy Negash flipped themselves with their feet. After their first couple of flips, my spine whispered, "No way, dude…don't even think about it." Russian Liudmila Dovgan twisted and contorted, Americans Steven Bruno, Laura Edmondson and Julia Unger, Ukrainians Sergey Mikhailov and Andriy Popov, and Russian Ivan Sokolov performed acrobatic feats that would have resulted in compound fractured if I were to attempt them.  Aleksandr Rebkovets of Belarus balanced crystal and candles on a stick held only by his teeth. American Grace Good performed far more stunts with a hoop than I ever dreamed one could do, and British Cyr Ballerina Fiona Thornbill performed a dance that was simultaneously graceful and dizzying as she danced inside and outside of a large hoop. Now I know what George Washington must feel like whenever I spin a quarter on the table. Even while these thrilling acts are being performed, the background is almost constantly in motion, with random polar bears, oompa-loomping ornaments and the most worm-like candy canes you'll ever see wandering across the stage at various times.
Music, Talent and Casting Director Jill Winters, who also wrote the music and lyrics with David Scott -- all under the watchful eye of Cirque Dreams Creator and Director Neil Goldberg -- has assembled a top-flight troupe of performers for this year's cast. The show is presented in St. Louis by our own Circus Flora. Sadly, Cirque Dreams Holidaze does not stick around for very long. By the time you read this, they've already packed up and headed down the road, having played 5 shows from November 29 to November 30, 2019. If your holiday travels happen to take you and your family anywhere near a Cirque Dreams Holidaze performance, grab some tickets and enjoy two-plus hours of circus talent combined with Broadway-level production values. The Cirque Dreams brand also runs a host of other shows all the time, ranging from a rock and roll themed program to a Broadway revue, so keep an eye open. I'm sure they'll be returning to St. Louis again in the near future so if you missed them this time, please don't take the chance next time and purchase your tickets well in advance! For more on Cirque Dreams Holidaze, please visit www.cirqueproductions.com, and visit www.FabulousFox.com for more amazing shows at the Fabulous Fox Theatre.