It's Not Naughty To See WICKED During the Holidays!
FTC Statement: Reviewers are frequently provided by the publisher/production company with a copy of the material being reviewed.The opinions published are solely those of the respective reviewers and may not reflect the opinions of CriticalBlast.com or its management.
As an Amazon Associate, we earn from qualifying purchases. (This is a legal requirement, as apparently some sites advertise for Amazon for free. Yes, that's sarcasm.)
Submitted by

Jeff Ritter

on Sun, 12/08/2019 - 13:55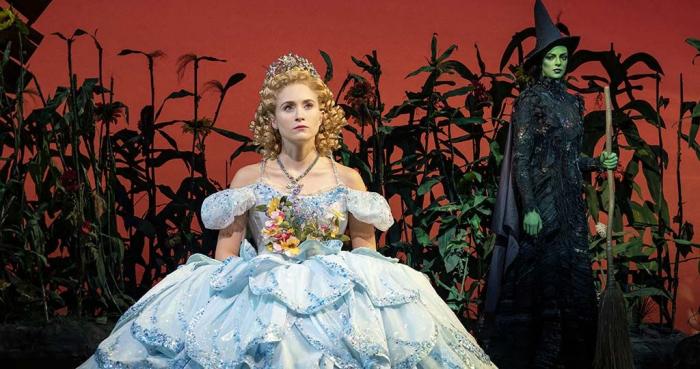 One of the greatest joys of reviewing live theatre comes from seeing a show for the first time. From Gilbert and Sullivan to Andrew Lloyd Webber to Lin Manuel, you always wonder "Is this show going to live up to the hype? I can't wait to see my favorite performer in this cast! I heard it bombed on Broadway, and since critics are always wrong I'm sure it's gonna be great!" Most of the time there is lots to love, particularly with a large national tour. The next time that tour stops in town, you know how you felt about the production last time. Does that grade still h old up? You might be inclined to do a little people watching—spotting reactions that give an indication of how the show is going over. \But the fourth time you review a production, what do you do? You've explained the plot three times already. You struggled not to sing along with what are now familiar favorites. How do you keep from repeating yourself?
The short answer is you won't. The casts change over regularly, and every new actor brings their own unique talents and experiences to the production. And you may feel like everyone should already know the plot by now, but every large theatre show is going to be someone's first. Such is the case with Wicked, playing the Fabulous Fox Theatre from December 4 – 29, 2019. Now, surely I don't need to explain The Wizard of Oz to you, right? Good, because Wicked is both a prequel and in some places a concurrent story, where the scenes you're watching at the theatre shows a different perspective of the events in the film. Wicked is the "true" origin story of Elphaba (Talia Suskauer) the famously green hued Wicked Witch of the West.  Before she was public enemy no. 1 of Oz, she was a student trying to fit in at school where her skin condition makes her the target of every insult and cruel act her classmates can hurl at her. She gets stuck with her polar opposite as a roommate, Glinda the Good (Allison Bailey). Through most of the first act, both students struggle to overcome their mistrust of each other. Their classmates don't have it much better. Nessarose (Amanda Fallon Smith, but played in the performance I saw by Jackie Raye) suffered a tragic birth and is wheelchair bound. She falls for a Munchkin boy named Boq (D.J. Plunkett) who only befriended her because the devil-may-care bad boy Fiyero (Curt Hansen), put him up to it. That little request would have sweeping ramifications. It keeps Boq away from his true love (can you guess?), gives Nessarose false hope, and complicated Elphaba and Glinda's relationship dramatically. Elphaba takes up the cause against animal abuse in Oz after her professor, a talking goat named Doctor Dillamond (Tom Flynn) reveals that many of the talking animals of Oz are losing their ability to speak, so Madame Morrible (Sharon Sachs, played in the performance I saw by Megan Loomis, whose role as the Midwife was played in turn by Kelly Lafarga), a teacher with a fondness for Ephaba's magical ability, encourages her prized pupil to seek out the Wizard of Oz (Tony Award winner Cleavant Derricks) for answers. Of course, as you mostly likely already know, the Wizard's not nearly as great or as powerful as Oz believes him to be.  Friendships, reputations, and lives are at changed forever.
I found Talia Saskauer's performance to be perhaps the most well-rounded I've seen to date. She showed more emotional range than I can recall seeing before, and she sang wonderfully. One of the show's conceits is the age factor—Margaret Hamilton was 36 when filming began on The Wizard of Oz, but she was made to look much older. Saskauer is at least ten years younger, and projects as a modern, cause-driven, young woman more than a cackling old hag. I overheard someone in the lobby at intermission saying that they don't get how she's supposed to be so young here but she looks so old in the movie. It wasn't my place to respond to that, but I would have said, "Well, in the film, Judy Garland was 16 years old playing an 11 year old, and to an 11 year old someone in their mid 20s or early 30s looks as old as Abe Vigoda. Or you could just try to ignore the whole age thing, because the musical is not supposed to be a direct tie-in to the film—it's its sown story and the young actress on stage tonight is really terrific!" Saskauer also exhibited strong chemistry with Allison Bailey, who belted out her songs with gusto.  I must confess, for reasons I can't even explain, "Popular" is quite possibly my favorite musical number. The more whimsically smug and cheerfully snide it is sung, the better, and Bailey nailed it. Easily the best Wizard I've seen yet, Cleavant Derricks won the 1982 Tony Award for Best Featured Actor in a Musical, playing James "Thunder" Early in Dreamgirls. He also had a lengthy film and television career. The Wizard isn't really all the likable as a character, so it was a bit of a challenge to root against him while Derricks played him with such high charisma.
Even though this is my fourth time seeing Wicked, I've seen five Elphabas in person—one of them didn't return for the second act and the standby actress jumped into action seamlessly.  Nalalia Vivino, the current standby for Elphaba, lurks in the wings for the entire show, already covered in green makeup; matching Talia Suskauer's every costume change. Even though she didn't make it onto the stage tonight, she deserves the same ovation the rest of the cast received because it takes a ton of effort—physically and mentally—to be prepared to take over the role at any time for any reason. Her voice would need to be warmed up for song, she'd have to know every line in the script—it's daunting and thankless, but vital for a show like this. Cheers to you, Miss Vivino!  Take your bow!
If you're still looking for that amazing present for a loved one this holiday, check www.FabulousFoc.com to see if there are tickets remaining for Wicked. If they are sold out or their availability doesn't match you busy holiday schedule (believe me, I know), the Fox Theatre does have gift cards too! There's nothing wicked about giving the gift of theatre to your loved ones (unless you're from Boston, then it would be "wikkid" awesome)!