Crazylegs is Crazy Good for the Whole Family
FTC Statement: Reviewers are frequently provided by the publisher/production company with a copy of the material being reviewed.The opinions published are solely those of the respective reviewers and may not reflect the opinions of CriticalBlast.com or its management.
As an Amazon Associate, we earn from qualifying purchases. (This is a legal requirement, as apparently some sites advertise for Amazon for free. Yes, that's sarcasm.)
Submitted by

Dennis Russo

on Wed, 10/20/2021 - 23:19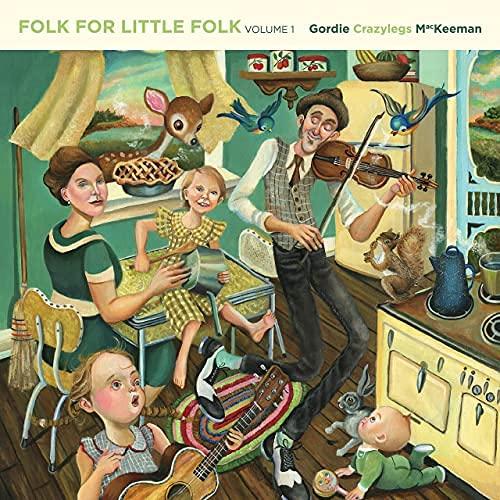 I have learned three things in my 40+ year love affair with Bluegrass/Americana music—I'm talking real Bluegrass: Bill Monroe, The Osbourne Brothers, Earl Scruggs, and more recently Alison Krauss to name but a scant few—and all three are related:
You can't be feeling mad or sad to play it.
You can't be mad or sad to listen to it.
If you are mad or sad when you start to listen, you won't be by the time you're done listening.
Well folks, Folk for Little Folk is just the right medicine, at the right time, to bring this often mad and seemingly downright sadness-filled society we live in today out of its funk to start enjoying life again! From start to finish, every tune here is inspired to make us (you and me) feel good. I don't know about you, but isn't it better to feel good and happy than the other way round'?
This album is Bluegrass/Americana in the purest, best form, and a great way to introduce the family to wonderful American roots-based music meant to inspire love, happiness and family togetherness.
Right out of the chute, this album is well-recorded with a prominence given to the fiddle and, strangely, bones. But all instruments are clearly heard throughout. One can even feel the rosin on Crazylegs' bow as it plays across the strings, and the hands slapping the water in the tub in "Dancing in The Bathtub" was as real sounding as it could be; even the echo of his voice conveyed the confines of a bathroom-sung song. All the voices sounded real and were laid out nicely across the sound stage on the album.
I know that doesn't mean a lot to most of the people who will be listening to this album, but it's still nice to know that it was important enough to record it well, at least for me.
All the songs here are fun. I was wondering how he would carry "Big Rock Candy Mountain," given some of the lyrics that can be found in this song, but he did a great job of changing out the words I questioned, and made a cohesive fun rendition. Some songs carried me back to my youth, such as "Lady Bug Picnic" which I first heard on Sesame Street so long ago I can't remember when I heard it first;  but it instantly struck a chord with me, and I'll say if your foot ain't at least tapping to it, well then, you're dead, go lie down.
Some songs you may not know by name but you will know by the melody. "Chicken Reel" probably doesn't ring a bell, but somewhere at some time you watched something they had to do with a farm or the country, and you'll recognize it instantly and go "Oh yeah, I know that!" Others you may think you'll recognize by the name only to be pleasantly surprised that they are not the songs you're thinking of, but rather original, traditional Americana songs, such as "Old MacDonald", "Hokey Pokey" and "Listen to the Mockingbird." "Hokey Pokey" will have you imagining a barn somewhere with a band standing on a bunch of haystacks while the locals are all swing their partners to and fro on the barn floor; and to that end, "Walking Along" is just a bona fide hoedown. Awesome!
Gordie is a consummate musician. Make no mistake: to do what he can do with a fiddle is no small feat. Why, one only has to listen to his playing on this album to realize that quickly enough. Gosh, on "Listen to The Mockingbird" he makes that ol' fiddle sound like a chirping bird! What fun!
"Get Out There and Dance" to me was a song that if someone told me it was written by Jimmy Buffett, I would have believed it. It's such a feel-good song.
What brings this album full circle for me is the last song, "Dreamland." It's a total change of pace from the rest of the album, a "time to put the table and chairs back in place after a rollicking good time and send the kids upstairs to wash up and get ready for bed" kind of song. Just charming in every sense of the word.
I smiled from start to finish with this album. Every song was a blast, it was fun to listen to, fun to dance to, and Gordie's reasoning around making this album (as mentioned on the inside cover liner notes) is as accurately as can be said.
If anything in the world was ever going to called mandatory for all people, having this album is it! I could not give it a higher recommendation if I stood on a chair on a mountain top.
Songs:
1. All Around the Kitchen
2. Big Rock Candy Mountain
3. Ladybug's Picnic
4. Chicken Reel
5. Get Out There and Dance
6. Snaccident
7. Dancing In the Bathtub
8. Mama Don't Allow
9. Walking Along
10. Old MacDonald
11. Log Driver's Waltz
12. Hokey Pokey
13. Listen to the Mockingbird
14. Oo-De-Lally
15. Boogie Woogie Baby
16. Hop High Lady
17. Dreamland