The Rolling Stones, GRRR Live: GRRR8!
FTC Statement: Reviewers are frequently provided by the publisher/production company with a copy of the material being reviewed.The opinions published are solely those of the respective reviewers and may not reflect the opinions of CriticalBlast.com or its management.
As an Amazon Associate, we earn from qualifying purchases. (This is a legal requirement, as apparently some sites advertise for Amazon for free. Yes, that's sarcasm.)
Submitted by

Dennis Russo

on Mon, 03/20/2023 - 01:00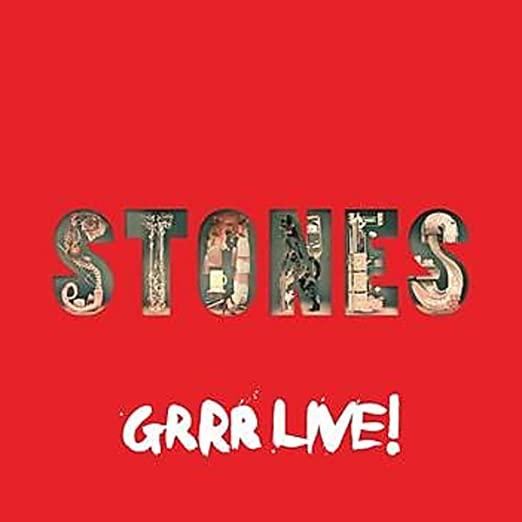 The Rolling Stones GRRR Live DVD/2CD set showcases the Stone's 50th anniversary tour billed as the "50 and Counting" Tour. How apropos considering where they are now! This particular concert took place on the last of four nights in Newark N.J. on December 15th, 2012. With guest appearances by The Black Keys, Mick Taylor, Lady Gaga, John Mayer, Gary Clark Jr., and Bruce Springsteen, the concert was quite the star-studded show.
Originally recorded and aired on Pay-Per-View, and not available to be for fans since, this set has been re-edited and the audio re-mixed, beautifully showcasing the Stones at this point in their career, and, undoubtedly, one of the most memorable shows in their history.
From the get-go, especially on the CD's, you become aware that Mick is recorded dead center in the sweet spot of the soundstage, and his vocals pretty much stay there no matter where he went around the stage. All the other band members, vocalists and instruments, are laid out nicely across the sound stage. Of all of the singers, however, Mick has the most lifelike texture to his voice. It "feels" like he's right there in the room with you, compared to say when Keith sings on the first two songs on the second CD (both of which are two of my favorites of his: "Before They Make Mr Run" and "Happy"). It's difficult to distinguish his voice from the backing vocals at times, making it a little harder to have that "it feels like he's right there" character.
The same can be said for the guests who sing with Mick. They are a tad  bit harder to pick out unless they are singing solo or are singing a touch out of sync with each other. These, of course, are minor ticks as all the songs are full of energy and drive; and when watching the concert on the DVD it is much easier to pick each out as you can actually see them.
This concert is hit, after hit, after hit, with beloved favorites and even some not-so-common ones. But rest assured, Mick and the rest of the Stones bring it full throttle.
One thing about the Stones live shows is that no matter how many times you see them, and how many times you hear some of the same songs, they always have a way of making them sound fresh and exciting to listen to…and to watch!
What I liked most about this set, apart from all the great songs, is the array of special guests they invited on stage with them, each bringing their own style and influences to the songs they played on and blending seamlessly with all the Stones. John Mayer played some fabulous lead guitar on "I'm Going Down" and Respectable," and along with Ronnie Wood, gave a new feel to the way the Stones sounded. The Black Keys jammed as if they were all one big band. Lady Gaga brought her A-game, even though she appeared at times to be trying her best not to fall off her towering platform shoes. She gave so much that when she finished on the DVD you can tell she was totally out of breath.
It was phenomenal to see Mick Taylor on the stage with them again, and to hear his guitar. (I always felt he was the best guitar player the Stones ever had.) It seemed like old times. Getting the biggest applause from the audience, though, was local boy Bruce Springsteen -- not surprising since the show was in New Jersey. And while I am not the biggest Springsteen fan on the planet, I will say this for him: of all the special guests, he appeared to be the one that was the happiest to be on stage with the band, and it was very clear on the DVD he was having a great time being up there with them.
Another thing I loved seeing during each guest's performance was how Mick would stand back and let each performer(s) shine on their songs, accompanying them rather than staying in the spotlight the whole time.
It's hard to say which were my favorite songs in this concert. They did such a great job on all of them, as you would expect for a Pay-Per-View special. And let's face it, they are all great songs. But if you were to tie me down and tickle me silly, I'd have to name "Before They Make Me Run" because it's just so Keith, and "Gimme Shelter" as my top two. Not the "Gimme Shelter" on the CD with Lady Gaga singing with them, but the version included as part of the DVD bonus songs, recorded two nights earlier. This was my favorite version because it showcases Lisa Fischer more prominently. Gosh how I missed hearing her haunting beautiful voice open that song! It gave me chills again. While she did sing the opening on the Lady Gaga version too, here, she took center stage with Mick and was absolutely drop-the-mic phenomenal! I loved how on the DVD you could see her being shown on the big screen behind the stage, while she was still in the background, as she vocalized the opening of the song. It goes to show just how awesome she sings it. And while she's not the original voice of that opening, to me she's the one that made it so iconic, and the song will be forever tied to her in my book.
Honorable mention would have to go to "Sympathy for The Devil" since they used a real choir for the opening, which did such a faithful homage to the original and they were mic'd perfectly for the song.
While I will most likely be listening to the CD's more often than watching the DVD (because I favor music in that format) I take nothing away from the pristine job done on the video. Throughout, the images were crisp, clear and vibrant, and shot in such a way that you were always entertained by what you saw as well as by what you heard. Ronnie and Keith are great showmen, and played as they always do to the audience who ate it up like candy. Charlie (always good to see Charlie behind the drums where he belonged), while band mates and guests were running about the stage, could be seen sitting back behind his drums, steady and steadfast as always, keeping the beat of each song in perfect time. Mick, and I've said it before and will again here, is the greatest frontman ever. Period! The reason why is because he is the only one who can work the audience into a frenzy both with his actions and his singing all at the same time. He takes charge, and once he starts he never stops! Now I'm not saying there are not others out there, but for sheer magnetism, Mick has no peers, and perhaps never will. I'm sure that may spark the ire of some out there who read this, some who perhaps think someone else is better. To them I will say this about their choices: Don't be mad, being number two isn't so terrible.
Now, seeing this set come out, you may catch yourself saying, "What? Another Stones album of old songs from a concert played years ago? Do we really need that? Sounds like they're just cashing in and trying to make a quick buck off their die-hard fans." Well, if you do say that, you couldn't be more wrong. Because, yes, we need this. This set captures a great moment of rock and roll history that was thankfully re-mixed and re-edited here for both young and old fans alike to enjoy.
If you're thinking also by chance that if you have one live Stones album you basically have them all, and that one -- even two -- would be enough for anyone, alas again I will say to you, you're wrong -- wrong this time because when you have a group that has spanned 60 years of making music, why would you want to just limit yourself to a snapshot from one small part of their career? Would you only go see any of your favorite bands live just once? Or do you go every time they come around and you have the chance to see them? Why would this be any different?
This truth is most important with the Stones because here is a band with such a long and storied career, that when you get to listen and watch them live as they progressed through the years, through the various live albums, you get to realize that even while they have grown older, they have always remained true to their music and to their fans. And this Rolling Stones GRRR Live set proves unequivocally that the Stones were the same at 50 as they are at 60 as they were at 40, 30, 20, 10, and that they undoubtedly will be for however long they choose to continue.
Though you may not think so or perhaps are too stubborn to admit it, the truth of the matter is this: when it comes to rock and roll -- real rock and roll -- the Rolling Stones are the greatest rock and roll band in history, and a treasure for young and old rock fans alike!
So don't wait, here is another opportunity for all Stones, nay rock and roll fans, who may not have been around back then or had the opportunity to hear/see this concert live, to experience yet another glimpse into just how really good rock and roll can be, and how it can remain relevant throughout the ages when done by those who know how to really do it best.
Songs:
CD1
Get Off of My Cloud
The Last Time
It's Only Rock "n" Roll (But I Like It)
Paint it Black
Gimme Shelter (with Lady Gaga)
Wild Horses
I'm Going Down (with John Mayer and Gary Clark Jr.)
Dead Flowers
Who Do You Love? (with The Black Keys)
Doom And Gloom
One More Shot
Miss You
Honky Tonk Woman
Band Introductions
CD2
1.      Before They Make Me Run
2.      Happy
3.      Midnight Rambler (with Mick Taylor)
4.      Start Me Up
5.      Tumbling Dice (with Bruce Springsteen)
6.      Brown Sugar
7.      Sympathy for the Devil
8.      You Can't Always Get What You Want
9.      Jumpin' Jack Flash
10.    (I Can't Get No) Satisfaction
DVD (all the above plus) Bonus Features:
1. Respectable (with John Mayer)
2. Around And Around
3. Gimme Shelter
(Bonus all recorded December 13th, 2012, at the Prudential Center, Newark N.J.)