You are here
Home
›
Movies
› Sisters - A Hilarious New Film from Comedy Masterminds Tina Fey and Amy Poehler ›
Sisters - A Hilarious New Film from Comedy Masterminds Tina Fey and Amy Poehler
FTC Statement: Reviewers are frequently provided by the publisher/production company with a copy of the material being reviewed.The opinions published are solely those of the respective reviewers and may not reflect the opinions of CriticalBlast.com or its management.
Submitted by

Meredith Tate

on Fri, 12/18/2015 - 01:00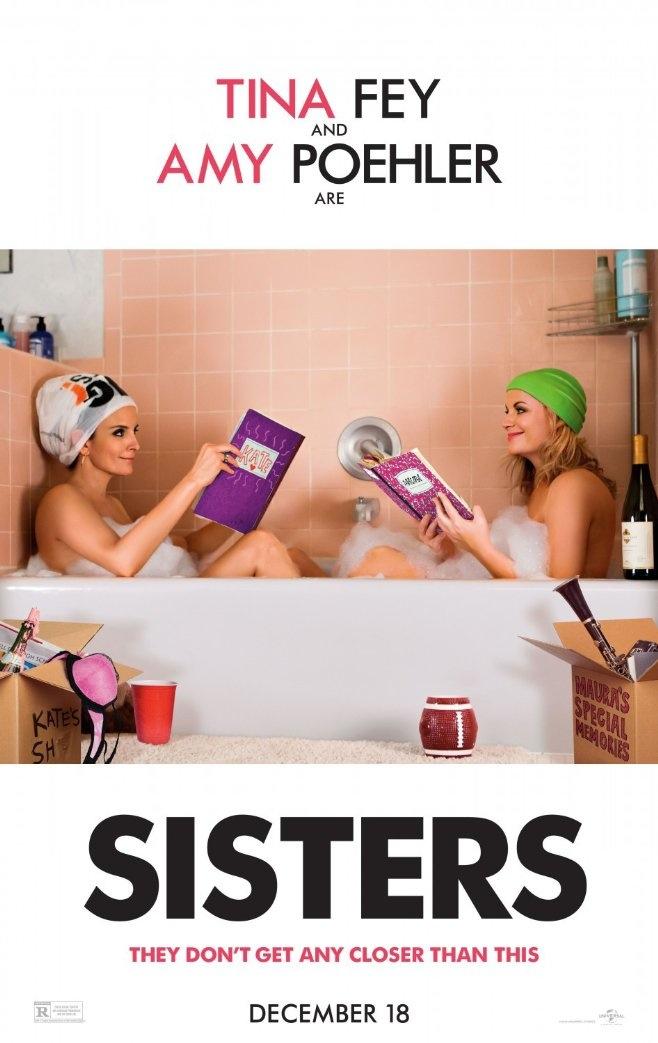 There are several emerging trends in current films that I've noticed – and many are trends I'm not fond of, such as rebooting old concepts (Another Batman movie but still no Wonder Woman or Black Widow?) and making single books into multiple movies (don't even get me started on my rant). However, one thing I've noticed in recent cinema that I absolutely love is the rise of lady-driven comedies crushing it at the box office. Between Bridesmaids, Trainwreck, and a whole slew of Melissa McCarthy movies (Spy, Tammy, The Heat, and Bridesmaids again), those "but women aren't funny!" trolls are running out of steam.
Not that there haven't always been comedic women on the big screen, but now these films are no longer seen as "for women," but for everyone – which is so important. If we want to raise a generation with true gender equality, we need to get past this idea that stories about men are "for everyone" while stories about women are just for girls.
Plus, these female-driven comedies feature women working behind the scenes as well as in them, in a field where women are notoriously excluded. While the landscape of Hollywood is slowly changing, it has a reputation for being an old boy's club when it comes to jobs like directing, producing, and screenwriting. The Academy Awards have been running since 1929, yet only four women have ever been nominated for Best Director, and only one (Katherine Bigelow for The Hurt Locker in 2009) has ever won; it only took eighty years -_-
However, that's changing. Women are starting to fill more and more roles backstage in movies of all genres, and comedies are no exception. Amy Schumer wrote the screenplay for Trainwreck, which is now nominated for Best Picture (Comedy) in the Golden Globes; Kristen Wiig and Annie Mumolo wrote the screenplay for the acclaimed Bridesmaids; Melissa McCarthy is both a screenwriter and producer for her film Tammy. And Tina Fey is a producer for the brand new movie, Sisters, starring Amy Poehler and Fey herself.
The moment I saw a trailer for Sisters, I knew it would be right up my alley. First of all, I've loved the Fey / Poehler duo ever since I saw them in Mean Girls. I also enjoyed watching them on SNL and as hosts for the 2015 Golden Globes, where they weren't shy about poking fun of sexism in Hollywood. Plus, they have that frat-boy humor that appeals to me – I'm a twelve-year-old boy at heart.
Tiny Fey and Amy Poehler play, you guessed it, two sisters in their forties who are close despite having drastically different lives. Fey plays Kate Ellis, a nail technician who struggles to hold down a job and is currently living on her friend's couch. Her teen daughter regularly leaves for chunks of time to stay "with friends," as she can't handle her mother's chaotic lifestyle. Poehler plays Maura Ellis, the younger sister who is so busy taking care of everyone else and working as a nurse that she hasn't been on a date since her divorce, years before.
When the sisters learn that their parents sold their beloved childhood home to a snobby young couple behind their backs, they're livid. They return home to Florida to begrudgingly pack up their childhood bedroom. They have to do it quick, because the inspector is coming in a couple days to review the house before the sale can become official.  
With their parents having already moved into a condo, Maura and Kate get to reminiscing their childhood days in their old home. While Maura and Kate were known in high school for throwing wild parties, Maura was always the "party mom" who was responsible for taking care of everything while Kate got drunk and partied. Now, Maura and Kate decide to throw one final house party in their old home, so Maura can get the party she never got to enjoy growing up. The sisters invite their whole graduating class, aside from Kate's enemy Brinda (Maya Rudolph). Maura even invites the guy from down the road she's been (awkwardly) crushing on.
However, soon the party gets out of control – someone painted a dick on the wall, Maura falls through the ceiling making a huge hole, and a drunk partygoer put way too much soap in the washing machine, which overflows all over the house. Not to mention a scorned Brinda, who is intent on sabotaging the party to get back at Kate for excluding her – blue paint in the pool, anyone?
But when their parents call with an announcement in the middle of the party, Kate has second thoughts about destroying the house. And there's a big secret Maura has been keeping from Kate that could ruin their relationship.
This movie was hilarious and heartfelt. Usually, my biggest peeve in comedies is when all the funny scenes are showcased in the trailer, so when you see the actual movie you've already seen the best parts; luckily, Sisters had plenty of hilarity not seen in the trailer footage. It also has a great message of letting go – home is where your family is, not just the physical location of a building. I also loved the relationship between Kate and Maura – they had plenty of memories and inside jokes, but you could tell they really loved each other.
It's rated R, and for good reason – the vulgarity in this movie was off the charts. There are numerous F-bombs, a C-bomb, and lots and lots of sex jokes, sometimes to the point where it was a little over the top. I felt as though a few scenes and lines were added more for shock value than anything else. But don't let that stop you—this movie is hilarious. Also, there were a few jokes about lesbians and Korean people that may be offensive to some.
Overall, Sisters was a fun and hilarious comedy with a heart to it. I recommend it!
Recent Tweets
Top Ten Most Popular Ever