Cheap Pops - Wrestling News & Views - February 29, 2016
FTC Statement: Reviewers are frequently provided by the publisher/production company with a copy of the material being reviewed.The opinions published are solely those of the respective reviewers and may not reflect the opinions of CriticalBlast.com or its management.
As an Amazon Associate, we earn from qualifying purchases. (This is a legal requirement, as apparently some sites advertise for Amazon for free. Yes, that's sarcasm.)
Submitted by

Critical Blast Staff

on Mon, 02/29/2016 - 06:59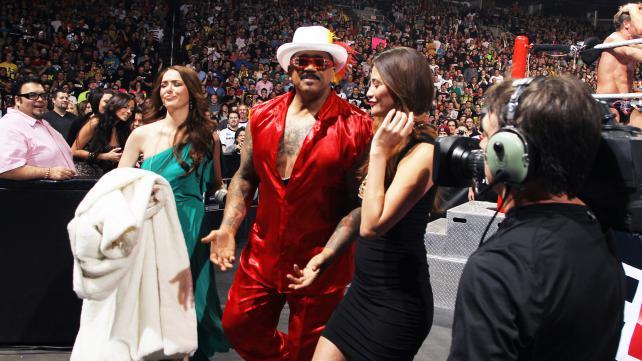 ---
by Chris Delloiacono, Mike Maillaro and Jeff Ritter (with assistance from Gina Maillaro)
This week!
Fast Lane Results

Wrestlemania Preview

Does The Godfather Belong in the WWE Hall of Fame?

NXT Results

Lucha Underground Results
---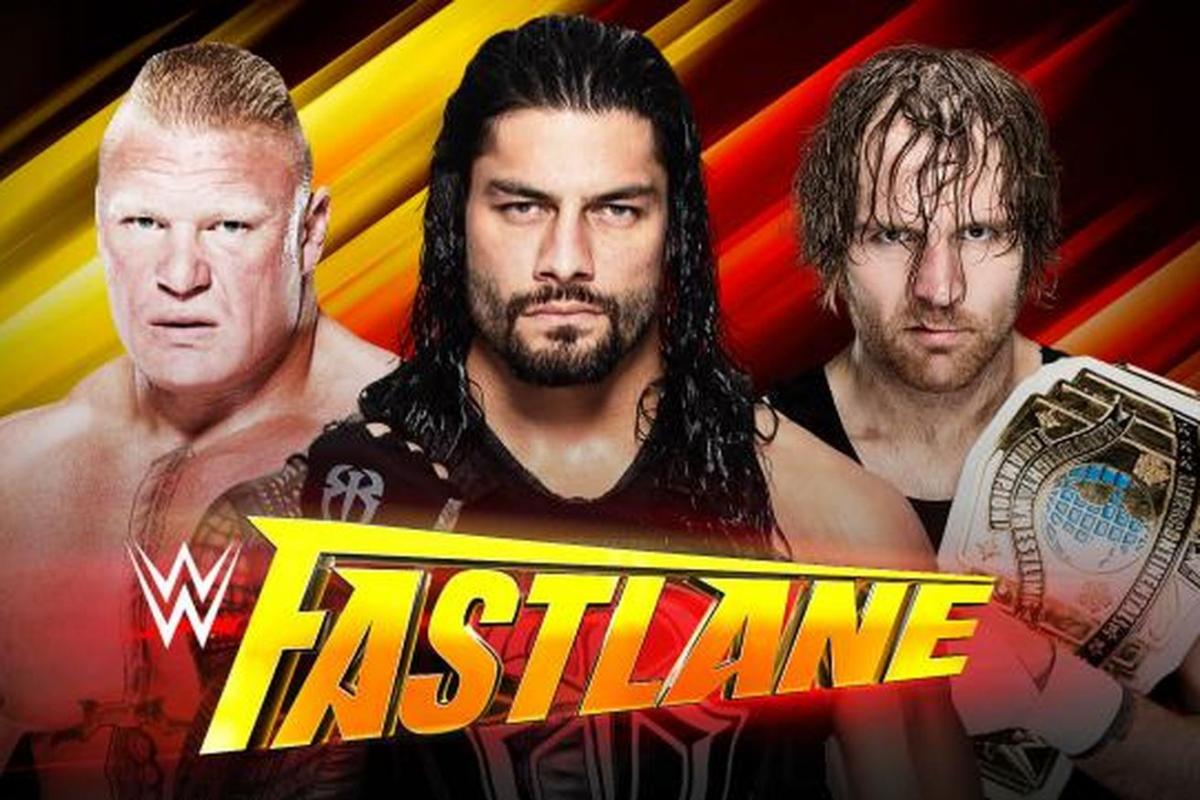 Fast Lane Results
2 of 3 Falls Match for the WWE United States Title: Alberto Del Rio vs. Kalisto

Kalisto wins first fall via DQ when Del Rio clobbered him with steel chair

Del Rio wins second fall with stomp

Kalisto wins third fall (and retains title) with a roll up after Del Rio misses another stomp attempt

Sasha Banks and Becky Lynch def Tamina Snuka and Naomi via submission.

WWE Intercontinental Title Match: Kevin Owens def Dolph Ziggler to retain

Kane, Big Show and Ryback def. Erick Rowan, Luke Harper and Braun Strowman

WWE Divas Title Match:  Charlotte def Brie Bella to retain via submission

AJ Styles def. Chris Jericho Styles via submission.  After the match, they shake hands

Curtis Axel def. R-Trith

Triple Threat for the #1 Contendership: Brock Lesnar vs. Roman Reigns vs. Dean Ambrose - Reigns wins after spearing Ambrose
Mike: I didn't watch any of Fast Lane.  I had a real busy week last week, and decided to catch up on various show on my DVR instead.  Honestly, I don't feel like I missed much.  Pretty much every match when as I predicted, except for the Kane, Big Show, Ryback Vs Wyatt match.  And that seems like terrible booking to me.  Two guys who are way past their prime, and one guy who may never reach his prime going over three fairly hot, fairly new talent.  And this is why the WWE is in the sad shape it's in.
By the way, it's looking like WWE might be realizing that Payback is a terrible PPV too.  There was an announcement this week that next year's Payback in New Jersey was pushed back to May 22 and renamed Extreme Rules.  I really hope the WWE takes a hard look at their PPV calendar and makes some drastically needed changes.
Chris: You missed nothing.  Some decent matches but a total filler show.  Sadly, nothing of value happened.  Nothing.  Like you said, the only surprise the whole night was the Wyatts losing to three guys nobody cares about anymore.  
I hate to beat on Roman Reigns but he's a lousy face of the company.  I just don't care much about anything he's involved in, and most people seem to agree. When the show revolves around him, there's a huge problem.  
As for Payback and Extreme Rules, judging by the 'Mania card, it doesn't matter what they call the follow up, it's going to be uninspired C-level stuff like Fastlane.  All we ever seem to get are battles for control of the company and the courageous underdog fighting the ruling authority.  This year we have both tired stories to NOT look forward to.  And, we are so lucky to get the rematches in Newark.  Yeah right!  I won't be there.  I'll save my money for the next WrestlePro event.
Mike: Well, that's a no brainer.  Extreme Rules tickets will easily run you a $100 bucks each MINIMUM, but even the upper level has $205 seats with floor seats running up to $505.   For WrestlePro, I can get front rows for $30-35 for most of their shows. AND, I get to meet Terry Funk at the March 5 show.  
---
Wrestlemania Preview
Mike: At last week's Raw, the card for Wrestlemania started to take shape.  
They formally announced that Roman Reigns will face Triple H for the WWE Title.  

Dean Ambrose will be facing Brock Lesnar in a No Holds Barred Match.

Charlotte will be defending her title against either Sasha Banks or Becky Lynch
There was also another match announced, but I want to set this up a little bit.  On Monday, they were giving out the Vincent J. McMahon Legacy of Excellence Award.  This seemed like it would be a setup to help push the main event forward.  You expected Vince to give it to Triple H or Stephanie to get Reigns to come out and kick some ass.  Instead, the WWE managed to surprise the audience by having Shane McMahon come out to interrupt.  Shane gets a huge pop. He's pretty pissed about Stephanie getting the award.  He basically challenges Vince for control of the WWE.  This had huge potential to go in a million different ways driving the WWE forward.
Instead...we get a Hell in the Cell match between Shane McMahon and the Undertaker to settle who will be the future of WWE.  Wait...what?  Look, I like Shane.  I think he's got a ton of charisma, and he used to take some crazy bumps back in the day.  BUT, back in the day is the important part of that sentence. That was a good 15 years ago, and he was never a full time wrestler.  This match basically shapes up to "45 year old who hasn't been in the ring in 15 years, and in his heyday, he was never a regular wrestler" vs "50 year old who only wrestles once a year and has seen far better days."   To me, they took what could have been a real hot angle and threw freezing cold water on it.  
Chris: I was hoping against hope that CM Punk was returning on RAW, but Shane O'Mac actually made me excited for a little while.  Watching him dance and talk again brought back memories of the glory days of the Attitude Era.  Then it all crashed down when Vince announced Shane was facing Undertaker.  Why would I want to see that or watch a six-week build to a nonsense bout for control.  I'll say it again, enough of these "control" matches.  
WWE  just blew what could have been a great moment and further pushed me away from the product.
Mike: I also thought that judging by the last segment, the WWE has some huge problems with the main event.  It seemed to me that they were trying to get people to rally behind Roman Reigns as the underdog by having Triple H give him a pretty horrific beatdown.  But it backfired a bit, with the crowd totally getting behind Triple H.  They seemed pretty happy about seeing Reigns getting demolished.  That is never what you want to see from the guy you want to be the face of the company.  
Chris: This proposed match makes me less excited than that Randy Orton/Batista one that almost happened a couple years ago.  This isn't a main event worthy of Wrestlemania.  I hope they have some kind of audible to call, because it's pathetic when HHH is getting massive pops for "killing" the number one babyface in the promotion.
Mike: There were quite a few rumors last week that CM Punk might be coming back in some capacity, including WWE returning his profile to their website.  I honestly have no idea if this is anything other than smoke, but considering how unenthusiastic I feel about Wrestlemania right now, I am not really sure I would like to see Punk back. I just feel like WWE would probably waste a good opportunity here.  That seems to be their MO lately.
Chris: Rest assured, it ain't happening, but if it did, WWE would blow it.  Punk would probably wrestle Big Show in a nightgown on a pole match.
Mike: You know, as much as people want to bemoan Vince Russo (and of course, he deserves it), at least for the most part his stuff was fun to watch.  You might have needed a shower in strong acid afterwards, but while you were watching it, you at least were mostly entertained.  Which is more than I can say for most of what WWE's been offering with the main roster lately.  
---
Does the Godfather belong in the Hall of Fame?
On Monday, WWE announced The Godfather would be going into the WWE Hall of Fame this year.
Chris: Charles Wright had some crazy gimmicks over the years.  There was the voodoo priest Papa Shango, Nation of Domination member Kama, the pimp leader of the Ho Train known as the Godfather, and even the Right to Censor's Goodfather.  He always lived his gimmick to the fullest.  That's why he got over several times in completely different ways.  
Mike: Sort of off topic, but I think it's real strange how the WWE inducts people.  If someone has wrestled as basically the same character for his entire career, it makes sense to induct him as "that character."  See Ultimate Warrior, for example.  But I thought it was real awkward when they inducted Scott Hall as Razor Ramon.  Scott Hall is a Hall of Famer, no questions asked.  Razor Ramon was a real popular gimmick for a real short period of time, and not even the pinnacle of his career.  "Yo Yo Yo.  Survey Says, We want Hall!"  
Chris: Hall is a perfect example of a Hall of Famer, and so is this year's headliner Sting.  They held numerous titles and always worked on top of the card. Now, getting over is also a big part of the business, and few people were over like the Godfather in the late '90s.  But, people weren't buying tickets to see his character, so I think it's a huge stretch to put him in the HOF.  He was a lower card guy as the Godfather, although he did some main eventing as Kama and Papa Shango.  As far as titles go, Charles Wright only held hardware twice in WWE, once each as Tag and IC champ.  So, there isn't a string of signature reigns on his resume.  
I agree with you on WWE's need to put in the gimmick and not the man or woman. It's kind of another sad way corporations control people these days.  Still, whether you include all his character incarnations or not, when it comes down to it, I just don't see how the Godfather or Charles Wright as a performer belongs as a Hall of Famer.
Mike: You know, I was kind of glad that WWE announced him for the Hall of Fame.  Just because I'm primarily a writer, and I knew this would be an interesting discussion.  
Except for a real short stint in the indys, he was with the WWF/WWE straight through from 1991-2002.  He had some real awful gimmicks, but he was able to make them work for the most part.  Though according to Wiki, Wrestling Observer "awarded" Papa Shango Worst gimmick, Worst Feud (Ultimate Warrior), and Most Embarrassing Wrestler in 1992.
And I am not really sure he had all that much in-ring talent.  Maybe it's hard to say just because his characters were never really in a position to show them off. But he didn't exactly have any 5 star classics.  
I actually feel bad saying all this, because especially as the Godfather, he did bring a lot of entertainment.  It says a lot about the Attitude Era that he could be as over as he was.  But, yeah, I think I have to agree with you.  No Hall of Fame for the Godfather.    
Gina:  The Godfather character (or gimmick as wrestling goes) was more innovative than you are giving it credit.  Imagine that a corporation that was trying to diversify its ranks and blurring lines and boundaries (albeit slowly), promoting a pimp.  You have to give the man MAJOR credit in taking such a reprehensible position and turning into something that didn't just work, but was accepted.  I agree with Mike that the hall of fame induction process is rather vague, to say the least, but without set parameters, for a man to push the boundaries of accepted PC thinking and sell it, I am not so ready to dismiss his contribution, particularly since it is the character being inducted and not the man behind it.
---
NXT Results - February 24, 2016
- The show starts with the same song I start my morning with every day, American Alpha's theme!
- American Alpha def. Blake and Murphy with Grand Amplitude
- Recap of last week's #1 contender's match where Sami Zayn and Samoa Joe both pinned each other.
- GM William Regal announces in two weeks Samoa Joe will face Sami Zayn in a 2 out of 3 falls match to decide the #1 contender.  And next week, there will be a huge debut of a new wrestler.
- The Drifter Elias Samson sings a cryptic song.  I wasn't paying all that much attention, but I am certain I heard the Rock say, "I gotta take a leak.  This guy sucks…"
- Apollo Crews def. Christopher Girard with Toss Powerbomb.
- Recap of Bayley Vs Carmella.  Eva Marie and Nia Jax attacked them after the match.  Asuka saved the day and seemed to be hinting she wanted a shot at Bayley's title herself.
- Bayley and Carmella are backstage.  Bayley says that Carmella proved that one day, she will be champion.  But tonight, it's about payback against Nia Jax and Eva Marie.  As for Asuka, Bayley is glad she helped out.  Bayley knows Asuka wants the NXT Women's Title.  And then the promo just ends abruptly. Kind of awkward.
- Earlier this week, Enzo Amore was attacked outside the WWE Performance Center by Dash and Dawson.  Big Cass rushed out to save the day and Dash and Dawson ran off.  Man...you must have to sign some serious waivers to work in the wrestling business "You might be attacked in the parking lot.  Sorry, but it's just part of the job...there is no legal ramifications for such an attack."
- Tommaso Ciampa def Bull Dempsey with a flip over armlock after working the arm and shoulder for most of the match.
- Samoa Joe is asked how he feels about Regal's announcement.  He's pissed but not surprised.  This just means Sami will have to suffer twice as much.
- Sami says he's had many 2 out of 3 falls matches before.  And he's on a mission to become the first ever two-time NXT Champion.
- Nia Jax/Eva Marie def. Baymella.  Nia hits three leg drops on Carmella and then Eva tags herself in to make the pinn.
- Regal is backstage with Finn.  Regal tells Finn that his reign is approaching the all time record.  There is a debate about who is the greatest NXT champion of all time (what debate? It's clearly Bo Dallas).  Regal has arranged for Finn to face the longest reigning NXT champion next week, Neville.  Finn says he looks forward to it.
Mike: I love how important they have made the tag division.  The commentators during that first match talked about the competition and the importance of every win. They also spent a lot of time talking about Gable and Jordan's background and family.  NXT has some of the best wrestling commentary I've ever seen.  This started with JR and Regal back in the early days of "modern NXT" and it continues today.  
Gable and Jordan dominated for most of this match, having an answer for everything Blake and Murphy threw at them.  Then Murphy hit a pretty vicious looking clothesline on Gable.  We eventually get a hot tag on Jordan, who comes in looking like Brock Lesnar destroying Blake and Murphy.  Pretty formula tag match, but I still enjoyed it.  And they gave it a lot of time which was a nice bonus.
Chris: The singles scene isn't what it used to be on NXT.  There just hasn't been much exciting going on the past six months.  However, the tag team picture is hopping.  The matches are all pretty formulaic, but the personalities make them shine.  I think I said it last week, but I'll say it again, this is the best tag team division WWE has boasted on any product since the late '80s or early '90s.
Mike: Apollo Crews faced off with the debuting Christopher Girard.  Girard had a real odd look to him.  My friend Josh said "He looked like someone put Cesaro in a dehydrator.  I did like his crazy uppercuts….which went further towards reminding me of Cesaro.  Girard really took it to Apollo.  It's odd that they keep making Apollo struggle against guys he should beat easily.  Crews had solid matches against the NXT champ, but can't put away Girard fast?  It seems off to me.  That said, I did enjoy this match quite a bit, so I shouldn't complain.
Chris: Girard is actually another big Indy guy by the name of Biff Busick.  I'd never seen him work before, but in this small taste, I liked Girard enough, even in losing.  He's signed to a deal, so we should see quite a bit of him.
As for Apollo, I don't want to say failure, but he's really not reaching the next level.  He pulls off some good moves in the ring, but I'm just not grabbed by him, yet.  He's been around for close to a year, it's time to do something impressive.
Mike: I think this was Bull Dempsey's last match before he was gone from NXT. He'll actually be facing Kevin Matthews at WrestlePro's debut show next Saturday!  It's gotta be a good move for his career.  It seemed like the WWE had nothing better to do than mock him for his weight.  I did think the match was far better than I was expecting it to be, but still kind of a waste for both of these guys.
Chris: This match was entertaining, and Bull got a chance to work.  I hope this was a turning point for both men's careers.  Bull should do well on the independents, and Ciampa seems to be in line for a decent NXT push.
Mike: Eva Maria and Nia Jax in a main event?  Yikes.  I never thought that day would come.  I think this was predicted in The Book of Revelations happening somewhere between the famine and the pestilence.  Oddly enough, we can almost have a NXT Women's Tag Division these days.  
The crowd was pretty dead for this one, at times it seemed like they couldn't even be bothered to boo.  Jax was played up as a monster, but everyone's rhythm seemed off for this one.  This was just a terrible choice as a main event.  Other than the main event, this was actually a really good episode of NXT, but that main event torpedoed the entire show for me.
Chris: Eva is growing as a wrestler, now she's just crappy, but this still wasn't any good for a main event.  Both her and Nia Jaxx need more time developing before they should be main eventing.  The push these two are getting should go to Emma.  She's a complete performer that deserves more spotlight.
Anyway, you were right about this being a good show, until the end.
---
Lucha Underground Results - February 24, 2016
- Vampiro's dark side talks about taking control.  He's been training Pentagon to help Vampiro return to his glory. Nothing will stand in their way. Not even "her."  We catch a glimpse of a mysterious woman from either Vampiro or Pentagon's past…
- Jack Evans takes the mike from ring announcer Melissa Santos and does his own introduction.  He calls himself the Dragon Slayer, calling Drago a punk ass and promising to make Drago his bitch.
- Jack Evans def. PJ Black.  Dragon came out mid-match to watch from the top of Catrina's office.  Jack Evans threw a bottle of water at him and threatened him with a chair.  Drago came to ringside.  He tried to spit green mist at Evans, but hit PJ instead allowing Evans to steal the win.
- Famous B has a campy 70's commercial promising to help jobbers become famous.  
- King Cuerno def. Killshot with Thrill of the Hunt.  After the match, he tries to beat Killshot down, but Fenix rushes in and Cuerno takes off.
- Texano Vs Chavo Guerrero and The Crew in a Gauntlet match.  Texano takes out Cisco with a superkick.  He takes out Cortez Castro with a power bomb.  During the final match, Cisco distracts the ref and Cortez is able to use Texano's bull rope to trip Texano and hold him down so Chavo can get the pin.
- At the "second temple," Matanza is still killing people.  Dario Cueto tells Lotus that they need Matanza ready to fight the war that Lotus started when she killed Dragon Azteca.  Dario tells Lotus his backstory.  His mom was abusive.  One day, Dario decided to stand up to her, but she came after him with a hot iron. Dario's brother, Matanza, took a bull statue and beat their mother to death so she could never hurt them again.  Dario says this is a happy memory because that is when he realized how much he loves violence.
- Pentagon is in wrestling ring in an empty arena.  He says Puma must be taught a lesson. Catrina says, "So teach him one." He demands a match.  Catrina says, "After what you did to Mil, why should I give you what you want?"  He attacks her.  They fight.  He goes to break her arm, but she vanishes.  She says, "You want Puma, you got him next week.  But be warned, putting your hands on me was the biggest mistake you have ever made."
- Johnny Mundo def Cage after interference by the debuting Taya, allowing Johnny to hit Cage with a lead pipe.  Taya seems to be Johnny's new manager. After the match,  they put the boots to Cage.
- Cuerno decides that since Fenix won't die, he's cashing in his Gift of the Gods title and challenging Mil Muertes himself, next week.  Catrina says "We had a deal." Cuerno says, "Too bad."  Catrina tells him that he already has a match next week.  Against Fenix for the Gift of the Gods title.  Cuerno is pissed.  Catrina makes it a ladder match.
Mike: When I saw Jack Evans was facing PJ Black, I was expecting a lot of high flying...and we did get that, but we also got a real solid wrestling match here too.  These two match up real well.  Poor PJ lost another match, this time because of Drago's interference.  I hate sloppy finishes (and we got quite a few of those tonight), but it does move storylines forward.
Chris: I don't think any of the finishes were sloppy, per se.  I know it's semantics but that implies the wrestlers didn't pull it off in a convincing way.  All the finishes went as planned, but none were clean finishes.  Essentially, every match was a screw job.  That in itself is pretty weak booking.  Screws make both guys look better, but you shouldn't have them in every match.
That said, I really enjoyed the chemistry these guys showed.  Jack Evans didn't do much in season one, but he's 2-0 this year.  Now PJ Black is off on a losing streak.  Maybe this is going to be the way they book.  Guys come in and lose at first, then get their feet under them, and that's when the winning comes.  
Mike: During the King Cuerno vs Killshot match, the commentators did a great job pointing out that Catrina has made sure all of King Cuerno's matches are non-title.  As long as their deal is in place, King Cuerno is not using the Gift of the Gods Title to challenge Mil's dominance.  This would have a huge payoff at the end of the show.
Cuerno and Killshot match up real well.   This was a brutal match with all kinds of crazy moves, including a great sequence on the apron and some vicious kicks from both men.  Everything tonight seemed in service of moving a lot of stories forward, which is typical for Lucha Underground.
Chris: I always have fun watching these two work.  I'm thrilled Killshot is coming really soon to work a WrestlePro show in Jersey.  
Mike: The Gauntlet match was decent.  Texano is a little hit or miss for me, and Chavo is a little past his prime, but they still manage to tell a good story in the ring.  I am glad they have given Castro a little more story to work with, but I still can't find myself getting that excited about Texano Vs Chavo.
Chris: I love seeing Chavo Guerrero with the crew.  It makes the group seem much more credible than last season.  Still, this feud is just a middle card placeholder to give Texano and the others something to do.  I don't think it's bad by any stretch, but comparatively, I don't find what's going on all that interesting either.
Mike: Cage and Mundo had an absolute war.  I love both these guys, and this was a terrific main event. Though again, we had a sloppy finish.  Not sure that Mundo really needs a manager, but Taya had a strong debut at least.
Chris: I'm glad Taya got the spot as Mundo's manager.  She looks like a maniac and should be somewhat credible when tangling with the men.
All told, a good show, but where's Mysterio?  I guess we know how they're going to keep Rey's body of glass from breaking, he's only going to get in the ring a couple times all season.  Smart, but disappointing.
Mike: Yeah, we had talked about this a little last week when we were wondering if Rey would make his way back to WWE.  It seems pretty clear that he's just unable to work a full schedule.  But he's got name value.  I don't see why they can't use him as a manager who occasionally wrestles.  Dragon Azteca can wrestle a few matches with Rey hitting some spots, and when BIG events come around, Rey himself can wrestle too.  Lucha Underground season 2 has just felt extremely slow.  
I wonder if part of it is the marathon taping sessions they do.  Wrestlers are only doing matches every few shows because otherwise they would have had to wrestle two or even three times a night because of how the shows are taped.  And most of Lucha Underground's matches are so intense, it would not be easy for a luchador to do two of them in one night. NXT often has a similar problem.