'Wonder Woman' Passes Batman, Superman Films; Thor is Set to Fall
FTC Statement: Reviewers are frequently provided by the publisher/production company with a copy of the material being reviewed.The opinions published are solely those of the respective reviewers and may not reflect the opinions of CriticalBlast.com or its management.
Submitted by

S.J. Mitchell

on Tue, 06/13/2017 - 12:09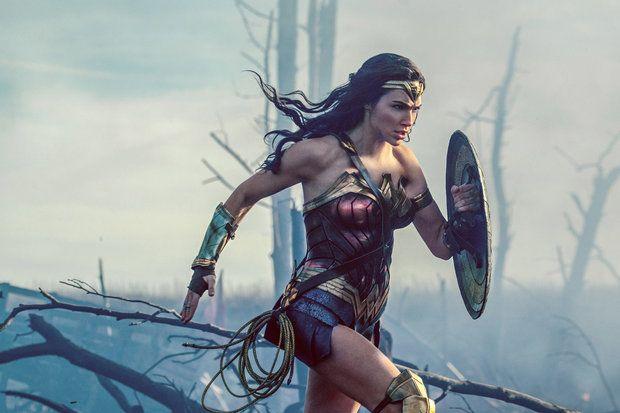 Super Hero movies have been around for nearly 40 years, as many refer to Richard Donner's Superman starting it all. Which, given Superman's importance in the comic book genre, is appropriate.
But that was 1978 and this is 2017. So much has changed as we are now in a golden age of super heroes on film. A time when 3 or 4 movies based on a comic book super hero are released in any given year with more being planned. Studios have created timelines to plot out the next great super hero movie. And while there has been a wide range of super hero movies over the years, there was something different that occured a couple weekends ago:
WONDER WOMAN.
What separates WONDER WOMAN from all super hero films before it? No, it wasn't the first female led super hero film. That distinction goes to the much maligned SUPERGIRL (1984) starring Helen Slater, directed by a man (Jeannot Szwarc).
For WONDER WOMAN, female director, Patty Jenkins (MONSTER) was at the helm.
With so much riding on the success of the first female directed super hero movie, starring a female in the lead role, women everywhere flocked to the box office. The opening weekend expectations were crushed.
WONDER WOMAN continues to ride the momentum as it has now passed SUPERMAN: RETURNS, THE AMAZING SPIDER-MAN 2, and BATMAN BEGINS at the (domestic) box office. Now, it will only be a matter of days before THOR: THE DARK WORLD falls as well. Trailing the 2013 THOR sequel by a mere $19 million, WONDER WOMAN should move past the Norse God of Thunder by the weekend.
Which is fitting, seeing as how Wonder Woman is the 'Godkiller'.
It's rather ironic, when you consider this twitter exchange:
Hey @chrishemsworth -- @GalGadot has something to ask you... #wonderwoman https://t.co/XWrDANhsaT pic.twitter.com/wDZDZpIemt

— Katie Couric (@katiecouric) June 2, 2017
I think she'd kick Thor's a**

— Chris Hemsworth (@chrishemsworth) June 3, 2017
In response to Gal Gadot's question, it should come as no surprise that Chris Hemsworth conceded this fact ahead of time, "I think she'd kick Thor's a**".
Well, sir, she aims to do it by the end of the week. With enough momentum, WONDER WOMAN may even overtake LOGAN and DR. STRANGE before her run is over. With CARS 3 opening this weekend, it's likely we'll see WONDER WOMAN be dethroned as the #1 movie which is usually when blockbusters hit the proverbial wall. This means the top 10 is probably out of reach.
But before it's run is over, how high up the list can WONDER WOMAN climb?
1989's BATMAN, sitting at #20 on the list, is certainly attainable. Can it pull in another $85 million to surpass MAN OF STEEL?
How far up the list do you think WONDER WOMAN can go?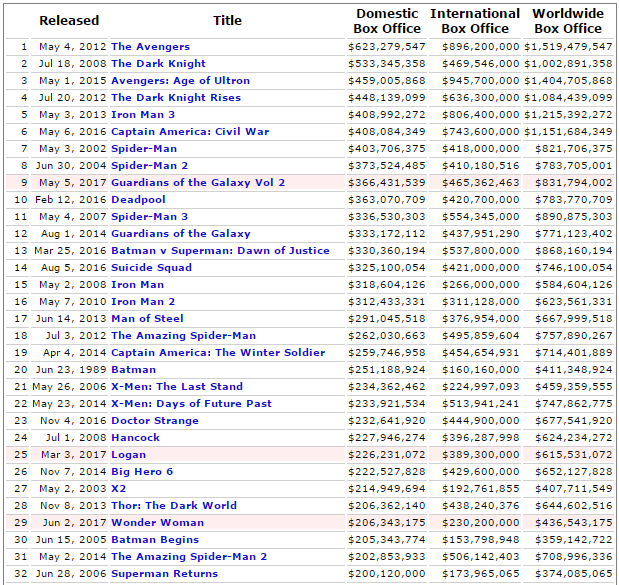 Recent Tweets
Top Ten Most Popular Ever