Theron and McAvoy Spy Like It's 1989 In ATOMIC BLONDE
FTC Statement: Reviewers are frequently provided by the publisher/production company with a copy of the material being reviewed.The opinions published are solely those of the respective reviewers and may not reflect the opinions of CriticalBlast.com or its management.
Submitted by

Jeff Ritter

on Fri, 07/28/2017 - 00:59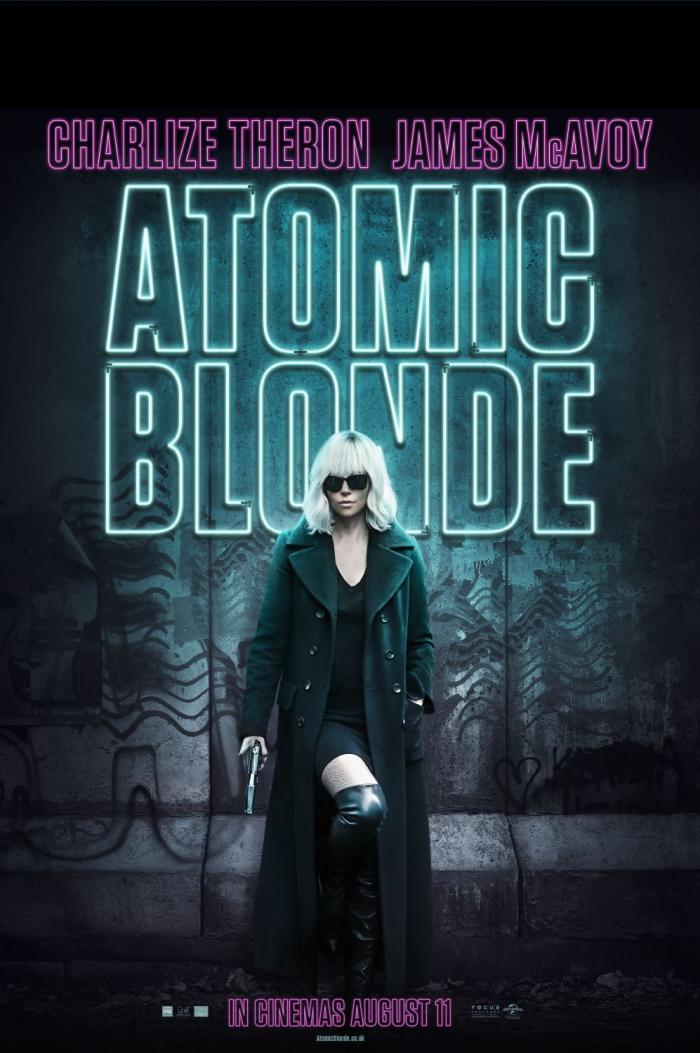 ATOMIC BLONDE is a stylish retro romp through the world of Cold War cloak and dagger. It's also a strong debut by director David Leitch, though the tangled web they weave in trying to deceive the audience is ever so slightly overwrought. Then again, it's bloody lightyears better than that Aston-Martin car wreck that was the last James Bond film, SPECTRE.
Based on the Oni Press graphic novel by Anthony Johnston and Sam Hart, the movie stars Charlize Theron as Lorraine Broughton, a top assassin for MI6 aka the British Secret Service, AKA the same folks who employ the world renowned super-spy, James Bond, who is assigned to investigate the death of an agent she was once close to.  Her top suspect is David Percival, section chief for MI6 in Berlin, Germany in the late 1980s when the Berlin Wall was about to crumble. Played by James McAvoy, who never fails to impress, Percival has gone a little native in the "Wild West" (Germany, that is, stick with me now…) and has the stiff upper lips in MI6, particularly Chief C (James Faulkner) and Eric Gray (Toby Jones), Broughton's superior officer, on edge. To make matters worse, there's a secret list of every KGB agent in the spy world hidden inside of a wrist watch, stolen from Broughton's ex-lover's dead body by an unscrupulous KGB agent (I know, that's rather redundant), information that also holds the key to a number of Western agencies' intelligence operations as well. Along the way Broughton strikes up a friendship with a French agent, Delphine Lasalle, played by KINGSMAN alumni Sofia Boutella. Also on hand is Eddie Marsan, one of the great character actors working today, who plays "Spyglass," an East German who wishes to defect after memorizing the Russian list, and John Goodman as CIA Agent Emmett Kurzfeld, on hand to make sure American interests are protected.  Oh shoot, did I forget to mention that someone is a traitor?
Not too surprisingly, chaos ensues. The spy game is not one for lasting friendships. Turns and twists keep the pace moving along reasonably well by today's standard of taking forever to get the action going. David Leitch wisely eschewed the obligatory origin scenes and made the audience care more about where the characters would end up rather than how they got there. The action is top-notch, as Charlize Theron cements her place in Hollywood action blockbusters here at the surprising age of 41. Her fight scenes are as enjoyable as any male action hero and the best I've seen by a woman since Gina Carano in the underrated gem HAYWIRE. Marvel should have signed both of these gorgeous action stars to play super heroines years ago…but I digress.  Leitch, a long time stuntman and coordinator himself, did not employ cheap camera tricks to hide his actors' shortcomings. Thank you for that! Theron and McAvoy, who probably enjoys stretching out between turns in Charles Xavier's wheelchair in the X-MEN franchise, are a joy to watch, together and separately. I almost didn't even recognize Eddie Marsan in his first scene, and of course Goodman is always a treat. The dialogue is sharp, the spy techniques generally solid, by 80s standards, and the supporting cast never feels unimportant. Leitch uses a fantastic 80s pop soundtrack to comedic and dramatic effect.  He also utilizes more modern cinematography which occasionally reminded me that this was indeed a period piece shot in the teenage years of the 21st century. It's not that it's bad; I just don't think the style of camerawork felt particularly accurate to the period at times.
My quibbles are pretty minor. ATOMIC BLONDE may not completely blow you away like the atomic bomb, but it's a fun ride and an entertaining couple of hours in a year where simply fun movies have been disappointingly few and far between. Hollywood should get back to a simpler formula like this instead of trying to franchise everything and milk every last sent out of it. Lead the way Mr. Leitch!
Recent Tweets
Top Ten Most Popular Ever