Earth 51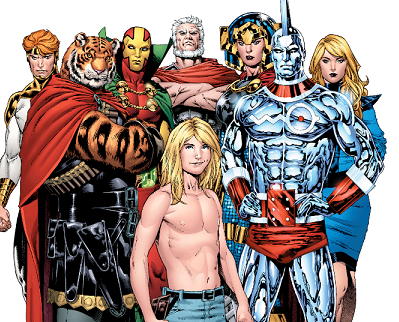 Art by: Paulo Siqueria w/ Eltaeb
From Multiversity Guidebook: On a fragile Earth ravaged by unknown "Great Disasters," men act like beasts and beasts act like men!
Here, Kamandi, the Last boy on Earth, and his allies Prince Tuftan of the Tiger-Man and Ben Boxer aka biOMAC have embarjed on a mind-bending rescue mission to the ends of the earth, which vast, powerful, and manipulative New Gods look on.
===============
Commentary: Holy crap am I tired.  I basically wrote all these entries in a two-day marathon.  I actually feel brain numb as I sit down to try and write up this last one.
I actually have never really read Kamandi, though I like the character from his appearances on Batman: The Brave and the Bold.  Kamandi is in two of my kids' favorite episodes "Last Bat on Earth!" and "The Malicious Mr Mind!"  iI is appropriate to end the Multiverse with the "Last Boy on Earth."  I also like how them tied in the New Gods.  There have been a few entries that dropped hints about Darkseid and the New Gods role in the Multiverse, and I am real curious how it all fits together.
DON'T PANIC!
Previous Earth<-------------------------------Home------------------------------->Next Earth