Cheap Pops - Wrestling News & Views - February 21, 2016
FTC Statement: Reviewers are frequently provided by the publisher/production company with a copy of the material being reviewed.The opinions published are solely those of the respective reviewers and may not reflect the opinions of CriticalBlast.com or its management.
As an Amazon Associate, we earn from qualifying purchases. (This is a legal requirement, as apparently some sites advertise for Amazon for free. Yes, that's sarcasm.)
Submitted by

Critical Blast Staff

on Sun, 02/21/2016 - 18:15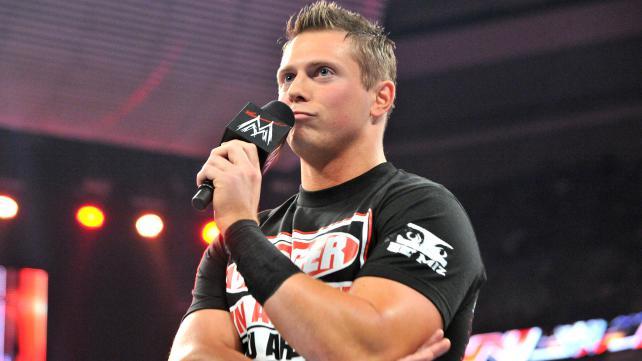 Cheap Pops - February 21, 2016 by Chris Delloiacono, Mike Maillaro and Jeff Ritter
This week!
Fast Lane Predictions

Does The Miz Belong in the WWE Hall of Fame?

NXT Results

Lucha Underground Results
---
FAST LANE PREDICTIONS
1P    Kalisto (c) vs. Alberto Del Rio    Two-out-of-three falls match for the WWE United States Championship
Mike: Kind of strange to dump this in the pre-show.  I actually expect Kalisto is going to continue to get a huge push, especially since over the summer they will be doing a major cruiserweight tournament on the WWE Network.  Kalisto really can be the face of that division.  
Semi-related, I did hear a rumor earlier this week that Rey may be coming back to WWE because he's having some pay issues with AAA, but I say take that with a grain of salt.  Especially with Lucha Underground starting to grow in leaps and bounds.  Each week, the ratings have gone up big numbers this season.  But even if Rey does come back to WWE, he can't have all that many years left.  WWE needs to start pushing new talent, and Kalisto should be the future!  
Del Rio's return has been kind of lackluster, but he does match up well with Kalisto.  A real shame this is on the pre-show as this will probably be one of the best matches on the PPV.
Chris: I agree it's weird to throw this match on the preshow, but I don't think it signals a de-push for either.  It'll be nice to get a lengthy match before the start of the actual show.  
As for Mysterio coming back, I can't imagine why WWE would bother.  He was injured for close to two years before he left.  He doesn't seem capable of working the HHH schedule of four matches a year, let alone anything slightly strenuous.
Jeff: Pre-show matches always feel punitive to me--somebody pissed somebody off. Since Titus isn't available due to Vince having left his sense of humor in his other suit, the Latinos are stuck here by default...which reminds me: whatever happened to Los Matadores?
Mike's Prediction: Kalisto
Chris's Prediction: Kalisto
Jeff's Prediction: Kalisto
2    Dean Ambrose vs. Roman Reigns vs. Brock Lesnar    Triple threat match to determine the #1 contender for the WWE World Heavyweight Championship at WrestleMania 32
Chris: Where can this possibly be going?  It's so hard to decide.  Look, if Roman Reigns doesn't win, I'd be stunned.  He has to challenge HHH for the strap at 'Mania, right?  I will say, taking the IC belt off of Ambrose on Raw makes me have some doubts.  
I'd assume the Wyatts get involved and screw over Lesnar.  I'm just not sure where that leaves Ambrose.  Perhaps he turns and somehow gets involved in the match at WrestleMania with HHH to further stack the odds against Roman.  In any case, I can't imagine much else than a win by Reigns.
Mike: I am really just hoping that we get a one on one main event for Wrestlemania this year.  Reigns Vs Triple HHH is definitely the most logical way for the story to go.  I honestly can't see Ambrose in the main event of Mania at the moment, and Brock vs Triple H isn't going to sell a lot of tickets at this point since we've seen it quite a few times in the last few years.
WWE seems to still plan on putting a lot of muscle behind Reigns, and I think giving him his Wrestlemania moment is the only way this can possibly go.  Though I won't dismiss the idea of Dean going heel, winning the match, with Reigns managing to take the #1 contendership away from Dean at or before Mania.
Jeff: The fact that the Rumble didn't set the stage for Wrestlemania but merely reset the defending champ just goes to show how bad Vince's mania (no pun intended) has become. No matter who wins nobody in the WWE Universe will be happy about it. Ambrose always pisses me off with his stupid 2nd rope rebound and general appearance of lackadaisical effort. With my luck it'll be Dean. It should be Bray Wyatt, and he should win over HHH and reign for a full year if WWE Creative was even remotely capable of living up to their job title.
Chris's Prediction: Roman Reigns
Mike's Prediction: Roman Reigns
Jeff's Prediction: Dean Ambrose, unfortunately
3    Charlotte (c) (with Ric Flair) vs. Brie Bella    Singles match for the WWE Divas Championship
Chris: Not even a pity victory for Brie is possible here.  She's getting ready to retire and Charlotte is the present and future of the division.  The match should be decent, but don't envision it being very memorable.
Mike: My only thought is that they may give her a brief goodbye title run and Brie will end her career at Wrestlemania.  Fastlane just isn't much of a platform for a retirement match.  That said, I don't see them taking the belt off Charlotte here either.  Charlotte wins.  Rematch next month as a retirement match for Brie.
Jeff: I don't think Brie is retiring this weekend, nor is she going over. Charlotte wins to set up a NXT Horsewomen extravaganza that will steal the show at Wrestlemania. Brie will get on the card too in a larger diva bout of some sort. She'll come out with Daniel Bryan, work babyface, get a nice pop, and walk out to "YES! YES! YES!" chants.
Chris's Prediction: Charlotte
Mike's Prediction: Charlotte
Jeff's Prediction: Charlotte
4    Becky Lynch and Sasha Banks vs. Naomi and Tamina    Tag team match
Mike: Odd to see two women's matches on the card, especially when there are only 6 announced matches.  Personally, I don't have a lot of love for Naomi or Tamina. They seem stuck in the "old diva" mindset.  I would rather see Natayla or Alicia Fox.  Becky Lynch and Sasha Banks are two of my favorites, but this isn't going to be a great match to show what they can do.   This match will probably be very short.  
Chris: Fastlane is really just a filler show with almost nothing of significance appears likely to happen.  It's a shame we are getting two uninspired women's matches on the show.  I hope we get Charlotte vs Sasha at 'Mania, because all this wasting of time has to be leading somewhere, right?
Jeff: Hell yeah, fellas! Time to hit the head and get more pizza.
Mike's Prediction: Becky and Sasha
Chris's Prediction: Becky and Sasha
Jeff's Prediction: Becky and Sasha
5    Kevin Owens (c) vs. Dolph Ziggler    Singles match for the WWE Intercontinental Championship
Chris: I like watching these two guys work, but we've seen it so many times already.  I just don't really care...at all.  It will be a good one, but so what.  Some storytelling here would be nice.  Instead we just get the setup of "Well I beat you twice, so wrestle me for the title."  Yawn.
Oh, and I don't think Dolph is winning and carrying the IC into 'Mania.
Mike: I actually had no idea Dean Ambrose had even lost the title on Raw last week.  Shows you how much I pay attention.  Seems bizarre that Dean loses his title, and doesn't even get a rematch.  I know, I know.  Wrestling is scripted, but there is usually some logic to it.  Sometimes.  Odd that Owens is already a two-time IC champ.  
I think it's pretty unlikely Ziggler will be winning the title here, but this should be a good match.  I actually would like to see them use this match to build the prestige backup of the IC title like they did for the US title.  Ziggler and Owens could both be legit main eventers with the right booking.
Jeff: Ziggler should have been better utilized in his prime, not that he's lost that much. Still, if he was ever going to get a good push, he would have happened long ago. Frankly, none of the title pictures make much sense to me right now, save Charlotte's. That said, Owens has been rumored to work Undertaker at Mania, and while that rumor was also shot down, you never really know this time of year. Me, I'd love to see KO vs AJ at Mania, and the IC title isn't necessary--this sentence has too many initials as it is, LOL.
Chris's Prediction: Kevin Owens
Mike's Prediction: Kevin Owens
Jeff's Prediction: Dolph Ziggler
6     Ryback, Big Show and Kane vs. The Wyatt Family (Luke Harper, Erick Rowan and Braun Strowman)    - Six-man tag team match
Mike: This match SCREAMS pre-show to me.  The sad part is that I like Big Show and Kane as people, but they just have nothing to offer me in the ring at this point.  Big Show's podcast with Stone Cold was excellent, and an honest take on his career that surprised me.  Personally, I would love to see Big Show and Kane doing more stuff on the Network.  They have both been in the business for a long time and are both great speakers.  BUT, I do not want to see them in a match at a PPV in 2016.  Poor Ryback!
Chris: This match just makes me want to scream.  Squash!  WWE has finally gotten behind the Wyatts in a big way, so there's no other way this one can go.  
Jeff: "WEEEELLLLLL IT'S THE BIG SHOW! IT'S TIME TO GET MORE COKE NOW! YEAH IT'S THE BIG SHOW! OPEN ANOTHER BAG OF CHIPS, YO!"
Mike's Prediction: The Wyatts
Chris's Prediction: The Wyatts
Jeff's Prediction: Can we call them The Wyatt Family when no Wyatts are actually in it?
7 AJ Styles vs. Chris Jericho
Chris: Much of the show is filled with matches we've seen several times before.  I'm intrigued to see AJ in his PPV singles debut, though.  The two bouts these guys wrestled on tv were good, but I'm expecting a top notch back and forth war.  I'm confident both guys are really going to bring it.  I'm calling it, match of the night.
By the way, I'd say this one will be the indicator of just how far AJ will go in WWE.  If he jobs, well, there's not much of a future beyond midcard hell.  If he goes over, perhaps a big run will be in store.  I'm going to be hopeful!
Mike: Unfortunately, I'm less optimistic about this match than you are.  Jericho is my all-time favorite wrestler, but he's a little past his prime.  It's just tired to see Jericho coming back just to put over new talent all the time.  It doesn't do much for AJ to beat Jericho at a PPV...since Jericho basically always loses at PPV's these days.  Like you said, if they have AJ lose, it's basically a sign WWE shouldn't even bothered signing him (unless it's a screw job loss that sets up a big feud).
Jeff: In the glory days of WCW this would have been a match of the year. Now it's the semi-annual, "Hey, look, Jericho's back for no apparent reason." match.
Chris's Prediction: AJ Styles
Mike's Prediction: AJ Styles
Jeff's Prediction: AJ Styles
Mike: Honestly, nothing on this card stands out for me as a must see match...other than (ironically) the match they are tossing on the pre-show.  
Also, as far as I know, there is no WWE title match or Tag Title match on the card.  Seems odd to me at a PPV.  New Day is doing some interview segment with Edge and Christian to help promote Edge and Christian's new show on the network.  Yeah, that is a very productive use of the tag champions….
Jeff: In lieu of a world title, I'd settle for the Intercontinental title headlining this card. I also advocate for the WWE to skip a February PPV or run a one-off Legends PPV with former superstars working under one match contracts. This would give more time to really concentrate on building for Mania and possibly reduce the possibility of injury before the biggest PPV of the year.
---
WWE Hall of Fame
Mike: So, last week, when we were talking about Daniel Bryan, I started to consider the WWE Hall of Fame.  Are there guys in the Hall of Fame who might not belong there?  And are there guys who aren't there who definitely do belong in the Hall?  And what do we think about some future potential Hall of Fame.  Over the next few weeks and months, we are going to tackle some of these heavy questions.
I am going to open up the conversation talking about one of my favorite underrated wrestlers.  The Miz!  
The question on the table, "If The Miz's career ended right now, would he belong in the WWE Hall of Fame?"  Now, I can literally see the readers (and probably Chris and Jeff) rolling their eyes at me on this one.  So, here is my case.
Miz main evented a Wrestlemania.  He went into the match WWE champion, and retained against John Cena!  How often does a heel actually keep the title after Wrestlemania?  And yes, I know Miz was outshone by The Rock, but I blame the booking for that.  Pretty much anyone is going to be outdone by The Rock.
He is a great company man.  Pretty much whatever they have asked him to do, he's done.  He's a huge asset to the WWE, and very underrated.
He's great at driving stories.  How many guys got a strong rub after working with The Miz.  Wade Barrett, Daniel Bryan, Alex Riley, Damien Sandow, John Morrison.  I am not saying that all of these guys are main eventers, but Miz made them all look like solid competitors who people should keep an eye on.
No one plays their character so well.  Whether in promos or in the ring, The Miz is always The Miz.  Sometimes it's just simple little things like the expressions on his face or the gestures he makes, but to me, The Miz is always telling a story with his work, and I really appreciate that.
See, for me, the Hall of Fame isn't just about "who's the biggest stars in history?" it also needs to be about who has the biggest impact on the industry, and I genuinely feel for good or for bad, The Miz is one of the driving forces behind the WWE today.
Chris: I'm not going to laugh at you here.  The WWE Hall doesn't really mean a lot because it's essentially Vince and a few other cronies deciding who does and doesn't belong.  It's just another piece of a corporation with no outside oversight.  I can't take the thing too seriously.  Still, I do like debating who does or does not belong.
You made a pretty strong case already, and let me add in another aspect.  Now, hardware doesn't mean the same thing in wrestling as it does in say baseball, but championships are a sign of being over and having the trust of management.  So, look at what The Miz has accomplished:
WWE Champion 1x

US Champion 2x

Intercontinental Champion 4x

Tag Team Champion 6x

Money in the Bank holder 1x
Rikishi is the recent entrant that I just shudder at.  His inclusion is utterly idiotic.  Miz looks like a no brainer in comparison. He's not a top of the class sort, but I don't see a problem with Miz getting in on the lower end of a year's class.  
Did I shock you?
Mike: A little, yes!  I expected a lot more pushback on this one.
Jeff: It's funny--when it comes to the Baseball Hall of Fame, I consider stats and character. When it comes to the WWE Hall of Fame, I consider the opposite. Junkyard Dog never had a significant title run. Neither did Superfly Snuka or Jesse Ventura. I don't think anyone could really argue against their inclusions. Miz though, He just doesn't pass the eye test for me. Yes, he's a good hand and I think he works hard, but I can't think of a single title he ever held or feud he ever participated in that I ever cared about at all.
Now if he was a baseball player who hit about .290 with 15 homers, 75 RBI, 15-20 steals, solid glove, decent arm, All-Star a time or two as an injury replacement, we'd say, "Good, scrappy player. Would love to have him on our team because he's such a pest to play against." He'd finish with a very nice career with good numbers, but we're not putting him in the Hall of Pretty Good, we're talking about a Hall of Fame. And my vote is no--The Miz is good, but the Miz simply is not great. He doesn't capture the collective imagination of wrestling fans. Very few tune in or buy PPVs because they can't wait to see what the Miz does. He got pushed a few times, and he's much more fun to watch than Lex Luger (the Mendoza line of pro wrestling), but just like the Gold Glove centerfielder Jim Edmonds, he's just not a Hall of Famer...although Jim should be.
---
NXT Results February 17, 2016
- VIdeo package about Sami Zayn vs Samoa Joe for the #1 Contender spot.
- Enzo, Big Cass, American Alpha def. Dash, Dawson, Blake and Murphy.  American Alpha hit Grand Amplitude, but the pin is broken up.  Enzo tags himself in and finishes it off with Air Enzo.
- Deonna Parrazzo is backstage.  She faced Asuka tonight.  Deonna says Asuka is amazing, but being knocked out is a learning experience.  Dana Brooke and Emma interrupt her.  Deonna needs to show respect.  Asuka only beat Dana and Emma because of luck.  Deonna has no chance against Asuka.
- Asuka def. Deonna Parrazzo with a spinning kick.
- Recap of last week where Nia Jax and Eva Marie attacked Bayley and Carmella after their match.
- Nia and Eva cut a promo telling off Bayley and Asuka for interfering in their business.
-Samoa Joe is getting ready for his match tonight against Sami Zayn.
- Next week, Bayley/Carmella Vs NIa Jax/Eva Marie in a tag match.
- Tye Dillinger def Alex Riley.  Alex Riley was about to finish Tye off, but Tye rolled him up for a surprise victory.
- Finn Balor compliments Apollo Crews on their great match two weeks ago.  As for the Number 1 contendership, both men are willing to go to hell and back for their shot at Finn's title.  Whoever wins, Finn will be ready to defend his title against them.
- Sami is getting ready for his match against Samoa Joe.
- Corbin goes into Regal's office. He demands Regal put him in the #1 Contender match.  Regal says his decision is final. Corbin says he believes in an eye for an eye, especially when it comes to someone stealing from him.
-Next week, American Alpha vs Blake and Murphy
- #1 Contender's Match - Samoa Joe Vs Sami Zayn ends in a draw.  Sami Zayn hits the Helluva Kick, but when he falls on Joe for the pin, both men's shoulders are down.  Regal comes out to tell the ref that we need a clear winner to have a Number 1 Contender, but the ref stands firm on his decision.
Mike: Call me Mr. Blackwell, I am starting off my look at tonight's show by talking about fashion.  American Alpha's new outfits are pretty wild.  Not at all what you expect from these guys, but it definitely made them stand out.  They made it work.  Blake and Murphy's Freddy Kruger look is only redeemed because Alexa looks ridiculously hot in her matching outfit.
The opening match featured 4 of the top teams in NXT, so I was looking forward to this one.  For the most part, it was just a standard 8-man tag.  A few times, all 8-men get in the ring, the faces throw the heels out of the ring and celebrate.  Everyone had a chance to hit some big spots. The match was given a lot of time, but most of it was just the heels beating on Gable until he made the hot tag.  I still enjoyed it, but I wish WWE would shake the formula up a little.
Chris: The faces are so over it's ridiculous!  In contrast, the heels do a great job of being hated.  These guys all know their role and put on a fun opener.  
As an aside, when you heap in the Vaudevillains and the Hype Bros. with this group, I'd venture to say, this is the best wrestling tag team division since the '80s.
Mike: I am glad that they gave Deonna some promo time and let her get in a little more offense than last time she faced Asuka.  Though her offense just seemed to make Asuka madder.  I love that once Asuka gets her hands on her opponent, it's basically game over.  She's relentless.
Chris: I'm always a fan of having the enhancement talent get a chance to work some.  If they just get squashed, what's the point.  Deanna looked pretty good here, considering.  I really liked the combo that Asuka won with.  Asuka's strikes are what make her a special performer, and these looked vicious.
Mike: Alex Riley looks like a beast these days.  I love his intensity and he has a real distinctive look to him.  The announcers said he looked like DiCaprio in The Revenant. The finish for this match was a real nice surprise with Tye stealing a win.  Not sure what that means for either men's NXT career moving forward, but this was a good match, even if it was short.
Chris: This was a fun one.  Both men have a clear in ring style and character.  They don't even need mic time to show who they are.  Amazing to see Tye get the win, but why not.  Neither man is going to lay waste to the division, so they should be part of a solid midcard.  Make them look good some of the time, then when it's time to put the big guys over, there's an actual rub.
Mike: For the main event, I think it was terrible booking to have another sloppy finish.  This is dragging on forever now.  If they were going to delay it, they should have at least had Corbin interfere to make his "eye for an eye" prediction come to fruition.  At this point, the logical answer is just to have a triple threat match at NXT Takeover Dallas, but since they tape NXT far in advance, we already know that is not what is going to happen.  That makes this all feel like a waste.  Especially since it's very likely Samoa Joe, Finn, and Sami will be making their way up to the main roster after Wrestlemania.
Chris: Agreed on dragging things out.  Unfortunately, as cool as the Takeover events have become, they really have lowered the quality of the weekly show.  Unless it's a tag title change, nothing much happens each week other than build for Takeover.
Mike: As for the match itself, it was a good one.  Sami is definitely looking a lot like his old self.  I was worried when he first came back, but he seems much more comfortable in the ring.  
One thing NXT has done real well is making Samoa Joe look like a force of nature.  It's usually tough to do, especially since Samoa Joe has lost some matches, but he always looks real strong and menacing in the ring.  I loved that Sami was able to hit the Blue Thunder Bomb on Joe; that is one big dude to be able to throw around like that.
Chris: Definitely a strong match, although a little too short.  We certainly say "too short" a lot these days.  There you have it, though.  I did like the finish--minus the dragging out part--both guys come out of it looking strong.  From what I heard, the blowoff match is going to be awesome.  
---
Lucha Underground - February 17, 2016
- Ivelisse bursts into Catrina's office.  Catrina says she should thank Mil for the mercy he showed her.  Ivelisse wants to show the Disciples of Death some mercy.  She wants a rematch for the Trios Title.  Catrina tells her there are no rematch clauses in her temple.  You have to prove your worth.  There is another Trios team looking to prove themselves. Ivelisse and her team will face them tonight.  Ivelisse says "No matter how many obstacles Catrina puts in her way, she's still coming for her."
- Ivelisse, Angelico, and Son of Havoc def. Chavo Guerrero, Cortez Castro, and Mr Cisco.  Angelico hits a double stomp off the top rope.
-After the match, Chavo is pretty pissed at The Crew for losing the match.  Some shoving back and forth.  Texano charges the ring. Chavo shoves The Crew at him and takes off.  Texano takes the Crew out, but Chavo has escaped.
- Johnny Mundo is working out backstage.  He says he's the biggest star in Lucha Underground.  But he's never been treated like the star that he is.  He was in the opening match of Ultima Lucha, which is not how you treat a main eventer.  He still stole the show.  He should be the Lucha Underground champ, but Cage is standing in his way.  Johnny will make the machine obsolete.
- Joey Ryan walks up to Castro backstage and calls him by his real name.  Castro is worried Ryan is going to blow both of their covers.  Ryan says "I've always been a better cop than you because I get the job done."  Joey says watch his match, and Castro might learn how to really look like a luchador.
- Cage def. Joey Ryan with a Screwdriver.  After the match, Johnny Mundo sneaks into the ring and takes down Cage.  He tries to hit End of the World, but Cage is back on his feet and hits Weapon X on Johnny.  Afterwards, he taunts Johnny.
- Rey is training the new Dragon Azteca.  Rey starts to tell him the story of the original Dragon Azteca.  25 years ago, Dario Cueto's father came to Mexico and met Dragon.  They formed a partnership to find the descendants of the original Aztec tribes and let them do battle once more.  Cueto became obsessed with the dark gods.  He was even willing to sacrifice his own son to them. This caused Cueto and Dragon to split. They made a treaty that neither would set foot in the other's domain.  Cueto sealed the treaty with dark magic.  Dragon knew he was sacrificing himself when he entered The Temple.  Now the new Dragon Azteca needs to find a way to unite the seven tribes.
- Next week, Johnny Mundo vs Cage.
- Prince Puma def. Pentagon Jr.  Pentagon hits a package piledriver.  He tries for a wicked surfboard pin, but Puma gets his shoulders up at the last second reversing the pin.  After the match, Pentagon attacks the ref and Puma after the match.  Puma takes Pentagon out with a kick.  He threatens to break Pentagon's arm, but he can't bring himself to do it.
- Sexy Star is staggering down a hallway in the Temple.  She seems drugged.  She runs into The Mack.  He asks, "Who did this?" She manages to say "Moth."  He says, "I'll kill him."  She says, "Not him!  Her!" She points into the distance, with both looking terrified.
Mike: I know they are trying to sell the Temple as a much darker place under Mil and Catrina, but the dim lighting makes the show a little hard to watch at times. I keep thinking it's my monitor, but nope, it's the show.
You know, this season keeps reminding me of Mortal Kombat.  Mil on his throne looks like Shao Khan.  People are getting killed.  Undercover cops (I think there are undercover cops in Mortal Kombat...it feels right).  You even have a guy named Cage.  Though Johnny Mundo is the one who acts like Johnny Cage…
Chris: Hard not to draw parallels to Mortal Kombat.  I also get a feeling of the Jean Claude Van Damme film Bloodsport.  Either way, I love the whole underground fighting aspect, but your point about the lighting is so true.  His name is Mil Muertes (not Mil Oscuro.  I get the death in the show, but let's add some actual light and leave the darkness metaphorical.
Mike: The Trios match to start the show tonight was real good.  This was probably the best episode of season 2 so far.  Angelico is amazing the way he flies around and hits all kinds of crazy kicks.  Son of Havoc hangs with him perfectly.  And then you have Ivelisse who is the muscle of the team.  These three work so well together.  The Crew seems much better this year too.
Chris: Angelico steals the show every time he's in the ring.  That sequence that won the watch was mindblowing.  It's a testament to how fun Ivelisse and Havoc are in the ring, because almost anyone else would be the Marty Jannetty of a group in which featured Angelico.
Mike: The 70's Porn Star Vs The Machine!  Joey Ryan is way too good at playing his character.  I was way creeped out by him, which seemed to be exactly what he was going for.  Ryan held his own against Cage, but still lost a great match.  This is the second major debut this season where the debuting wrestler lost.  Not sure if that is the right choice for booking.  Lucha Underground needs some more jobbers so debuting wrestlers don't lose all the time.
Chris: I'd heard a lot about Ryan, but I never actually saw him in the ring.  That's one hell of a gimmick.  He sure seems like he lives that one.  Everyone has jobbed so much in Lucha--even the big stars like Muertes, Mundo, Puma, and Cage--wins and losses don't mean a ton.  Still, let a newbie get a win!
Mike: Two of the biggest stars in Lucha Underground head to head. This is a PPV level match up!  It pretty much single-handedly kicked Season 2 up a level.  And the match had a great finish.  This was pretty much everything I was hoping for from this match.  Can't wait to see where this feud goes from here!
Chris: These two are my favorite guys on the show, so it's about time we got a singles match!  Brutality, fun, a clear finish, but investment for the future.  That's big match booking.
Jeff: Hola muchachos! Since they book LU as "seasons," do you think there's a chance they'll ever put it on Netflix? I sit at my PC at work for 50+ hours a week, so I don't care to sit there again at home to watch streaming options. I'm on limited technology these days, so if the LU gods are reading this...BRING THE UNDERGROUND TO NETFLIX!