You are here
Home
›
Geek Chic
› Run, Don't Walk, to Catch our August Bombshell, The Walking Farnsworth! ›
Run, Don't Walk, to Catch our August Bombshell, The Walking Farnsworth!
FTC Statement: Reviewers are frequently provided by the publisher/production company with a copy of the material being reviewed.The opinions published are solely those of the respective reviewers and may not reflect the opinions of CriticalBlast.com or its management.
As an Amazon Associate, we earn from qualifying purchases. (This is a legal requirement, as apparently some sites advertise for Amazon for free. Yes, that's sarcasm.)
Submitted by

Critical Blast Staff

on Tue, 08/01/2017 - 02:00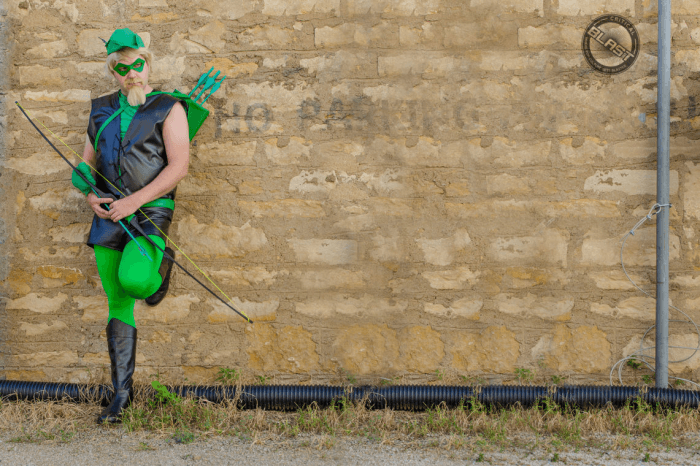 August is the month when things traditionally heat up. Despite that, our August Bombshell, The Walking Farnsworth, exudes cool as he portrays some of the coolest customers in the comics continuum.
As a member of the Midwest cosplay group, Another Castle Creations, TWF makes cosplay a family affair, attending conventions with Mrs. The Walking Farnsworth and generally shaking up the Kansas convention circuit. His designs for Green Arrow, Doctor Strange are both highlighted here -- and how could we resist including a pose of Bruce Wayne -- from DC Comics' own BOMBSHELLS series? So let's get on with the show, shall we?
Critical Blast Bombshell, August 2017
The Walking Farnsworth
What is your interest in cosplay, and why do you do it?
I love to take a character that I like and bring that character to life. Most of the characters that I choose are from animated shows or comic books. There is often a challenge to bring these characters to life, and that challenge is one of the things that I enjoy most about cosplay. From deciding on the right fabric to use, to creating props that are light weight, safe, and realistic looking (or true to the art), cosplay offers so many ways to bring out my creative side.
The fun doesn't stop when the costume is built. I also really enjoy interacting with people in costumes. There is nothing like the smile on a kid's face when they see their favorite characters in real life.
How did you get into it, and what was your first cosplay experience?
I was first introduced to cosplay at the first comic convention that I attended, with my wife, in 2014. We heard about Planet Comicon in Kansas City and decided that it would be fun to attend and check it out. We enjoy many things geeky and nerdy, so wondering around a pop culture convention sounded like fun. I am an amateur photographer and brought my camera along. I found that I really enjoyed photographing all of the amazing cosplayers that we saw.
A few months later we heard about a comic convention in Topeka, KS and decided to do our first cosplay. With mostly store found pieces, I made a Dipper Pines costume and my wife made a Mable Pines costume. We had a lot of fun walking around and talking with everyone. We met new people and discovered a hobby that would overtake our lives.
The Walking Farnsworth, as (appropriately) Bombshell Bruce Wayne.
Photography by Mark Benfer.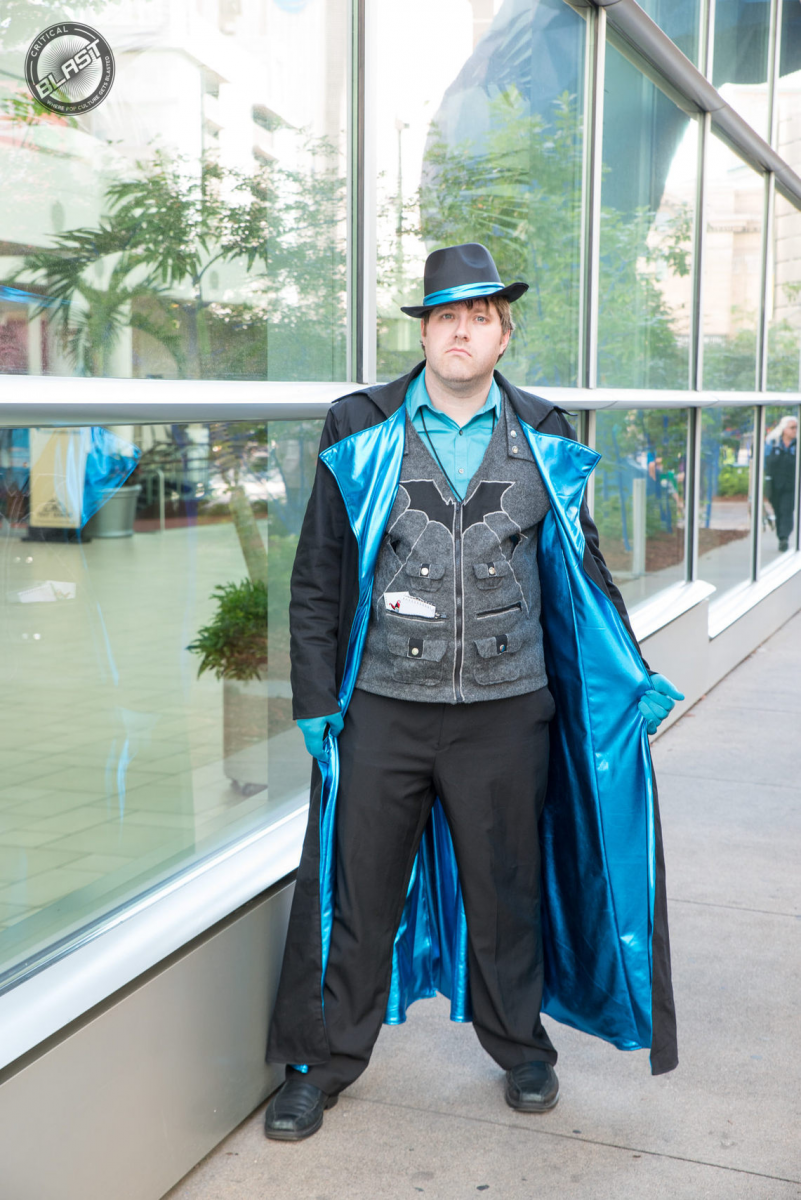 What is your "Secret identity?"
Every superhero needs a secret identity. While I may not be a real superhero, my day job allows me to help real life superheros. I am an electronics technician that works on emergency communications equipment. I have always had an interest in electronics. I was lucky enough to find a career that allows me to do something that I enjoy every day.
What kind of social activities do you get involved with, especially if you are able to incorporate cosplay?
I am a part of Another Castle Creations, a Kansas City based cosplay group. Together the five members have been to find many ways to share their love for cosplay. We have been guests at many comic conventions throughout Kansas and have attended many more conventions across the Mid-West. Attending conventions has given us the desire to continue to create more costumes and keep driving this hobby that we have grown to love. We have also been able to make many new friends along the way.
It is through some of the amazing people that we have met that we have been asked to help with several charity events. Some events have been in a park raising money for hospitals, while others have allowed us to visit some amazing kids while they are in the hospital. Helping others is a part of cosplay that can make a difference in this world, and we are glad that we are able to be a part of this.
Do you make as much of your own costume as possible or rely on purchased materials -- and is that important overall to cosplaying?
Creating a costume is one of my favorite parts of cosplay and I often try to make as much of the costume as I can. Many items of a costume are something that would be hard to find, so they must be created. Some parts of a costume can be easily found at thrift stores or other retailers. I have several costumes that utilize clothing that I have bought and modified. I do not think that making your own costumes is necessary to have fun and enjoy the hobby.
The Walking Farnsworth as Marvel's Doctor Strange.
Photography by Chuck Mason.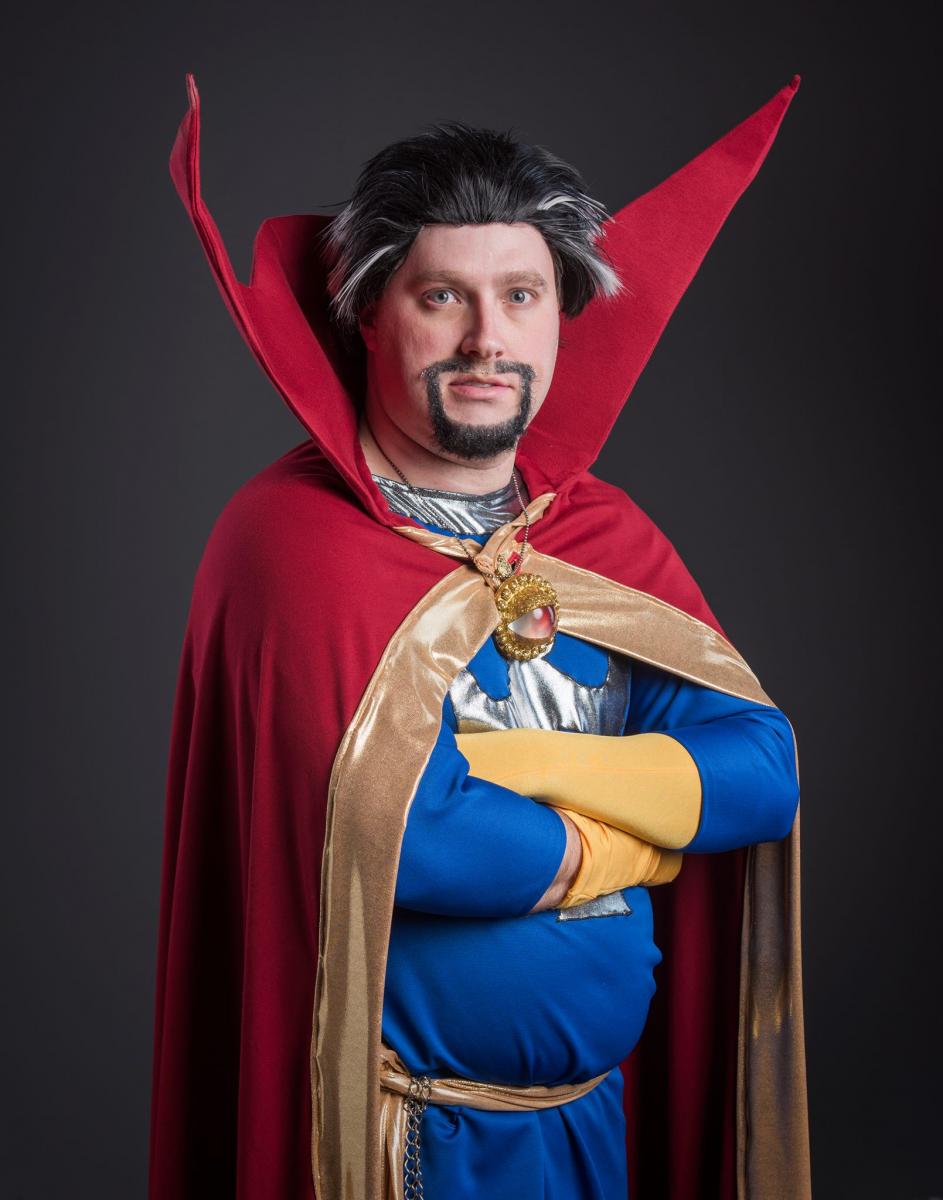 What is your favorite cosplay--your go-to look that you just love to put on and act out?
It is hard to decide on which cosplay is my favorite. I think if I have to pick one it would be my Doctor Strange. I enjoy the character and the costume. Doctor Strange allowed me to learn how to customize a wig. I sewed in white wefts to a black wig to get the classic look of the white stripes that Doctor Strange has through his hair. I also crafted the Eye of Agamotto with resin, gold glitter, and a back-lit image of the Eye of Sauron. This costume was featured in the Figments and Filament Costume Gallery at Planet Comicon 2017.
One of my first costumes that I made was Green Arrow, and it is definitely at the top of the list. Green Arrow gave me the excuse to learn how to craft a bow, which was the start of making props to add to my characters. One of my newest cosplay is Bombshell Bruce Wayne, based on the DC cover art by Ant Lucia, it even got his seal of approval! We were able to meet him during Planet Comic Con 2017.
Where can people go to find you online?
You can find me on Facebook and Instagram. Be sure to also check out Another Castle Creations and give us a follow.
Facebook: https://www.facebook.com/thewalkingfarnsworth/
Instagram: https://www.instagram.com/thewalkingfarnsworth/
Facebook: https://www.facebook.com/anothercastlecreations
Instagram: https://www.instagram.com/anothercastlecreations/