Flying High with Our June Bombshell, Charlee Soffer
FTC Statement: Reviewers are frequently provided by the publisher/production company with a copy of the material being reviewed.The opinions published are solely those of the respective reviewers and may not reflect the opinions of CriticalBlast.com or its management.
As an Amazon Associate, we earn from qualifying purchases. (This is a legal requirement, as apparently some sites advertise for Amazon for free. Yes, that's sarcasm.)
Submitted by

Critical Blast Staff

on Fri, 06/01/2018 - 06:45
With the rains of Spring behind us, the clouds are parting and the visibility gets a light brighter, giving way to clear blue...
Look!
Up in the sky!
Is that a bird? A plane?
No, it's our June Bombshell, St. Louis Superman, aka Charlee Soffer!
Please give a warm welcome to our newest...
Critical Blast Bombshell, June 2018
Charlee Soffer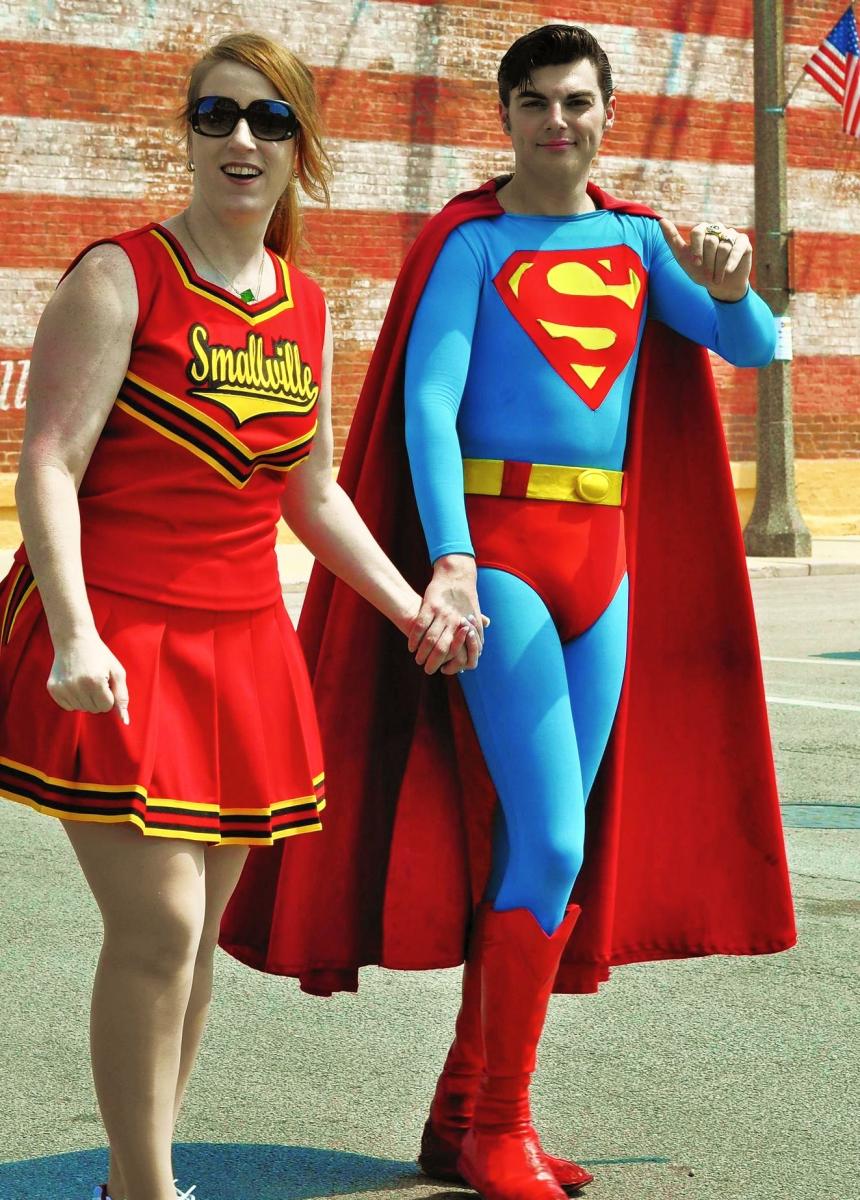 Lana Lang & Classic Superboy
Smallville Superfest
What is your interest in cosplay?
At first I started costuming as a creative outlet, a way to express myself with a community that would befriend me. It since has become a lot more. In meeting many people I also made lifelong friends, and met my soulmate. My fiance dresses up with me and pushes me to improve. These are the happiest years I've had in this hobby, I do it for her now.
How did you get into cosplay, and what was your first cosplay experience?
Although I did wear my PJs as a kid, my first experience in costume was in high school. I was a senior and I decided to wear a costume to class for Halloween. I wanted to be Austin Powers; my father wanted me to be Superman. We argued for almost a week about it, but he was paying, haha. I can honestly say I wouldn't be here talking to you if I'd won that argument.
The school went nuts, completely crazy. The students wouldnt settle down, plus some of the teachers told me how much I actually favored Superman. That was all I needed! I moved to Saint Louis after I graduated and kept pursuing it. I later discovered Metropolis, IL with family and it completely changed costuming for me after that.
How has your cosplay evolved since you began?
It's most definitely come a long way. I remember trying to buy everything and wanting to "piece it together" instead of buying a Halloween costume when I tried doing costumes myself. My research has certainly improved too, as you need to think like an engineer sometimes. You need to be able to see what your are making or building before you create it. It's certainly helped with last minute con costumes! I get more sleep at cons than I used to. One thing I would notice the most is my confidence and the feeling to be free. I feel more open-minded and down to earth about what I do. Definitely 'experience' and 'patience' are contributing factors.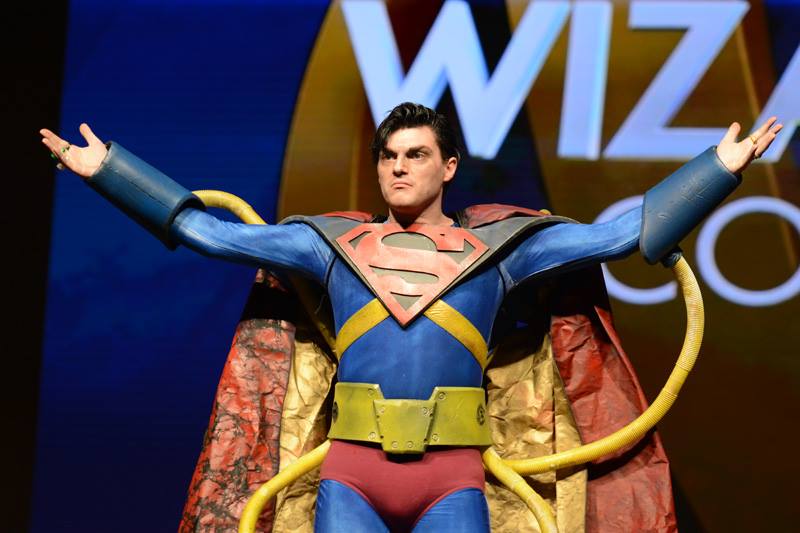 Superboy Prime
Wizard World St. Louis
Photo: Thomas Ricks
What is your "secret identity" outside of cosplaying?
For a long time, I've worked as a Street Character at baseball games as St. Louis Superman. I take projects on the side for costume commissions and projects. I specialize in Superman belts and I also cospliaison for people.
Another thing that has been upcoming is my acting career. I just recieved my big break and finished my first feature with the indpendent fan film, Supermen: World War. It was a dream come true to act in a movie. My character was Private Don, an Army Photographer (and the director's grandfather). The director, cast, and crew helped me learn so much with my skills. I cant wait to land another role!
What kind of social or charity activities do you get involved in with your cosplay?
With my costuming and work at the ballpark, I had many requests for volunteering in costume, so I founded the Gateway Superfriends with my Amazon sister, Krissy Stone. I am proud to have been able to help start such a wonderful cause, as other groups in St Louis, Perryville, and Decatur have made their own movements as well. With work, cons, and appearances, my time has been busier, but it's a joy to volunteer every chance I get.
When I'm not working or in costume, I spend my down time watching something or reading a graphic novel or book. I'm also a 3rd generation bowler. I love to go out when I can and relieve stress on the pins. Otherwise it's Dueling or Gaming. I'm a long time YuGioh fan, along with DCUOnline, Defiance and 1st person shooters.
Do you make as much of your own costume as possible or rely on purchased materials -- and is that important overall to cosplaying?
My motto is if I can't make it, I'll find it. I'm not a big fan of just buying a costume piece off a shelf. If you have to, you have to. However, I try to put as much personal attention to improve anything I buy if I do. Usually for a suit, I'll get a base unitard, add what I can make, and go through trusted contacts and talented friends to source the rest. Always give credit where credit is due.
There are some people that prefer to make a whole costume from scratch, others just want to go online and buy it from a vendor. As long as you put the work into making sure the costume you wear functions and looks good to you, then I'd say that's the most important. Do the best you can with the costume you can afford to build/purchase.
What's your favorite cosplay, your "go to" look that you just love to put on and act out?
Oh, Superboy for sure! I actually have 3 versions that I favor. My favorite for my fiance Colleen is Lana Lang, so I enjoy Classic Superboy the most with her. Besides that, I really enjoy 90's Superboy and Superboy Prime. Those two are so fun, but so different; one is easygoing and comfortable to wear, the other is so intimidating but it's a beast of a suit. Some others that I enjoy wearing are Mon El, Nightwing, Earth-2 Robin, Scarlet Spider, Spider-Boy, and Evil Superman.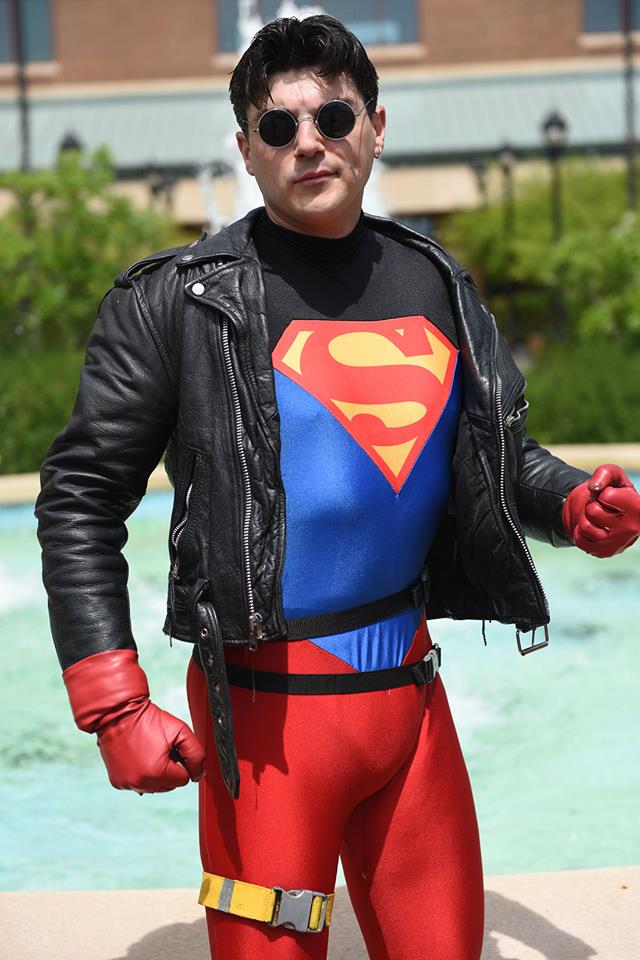 90s Superboy
Gateway Comic Con
Photo: Thomas Ricks
Where can people go to find you online?
My online handle for Facebook, Twitter, and Instagram is @StLouisSuperman. Feel Free to drop me a line and say hi, or you are welcome to email me at StLouisSuperman@gmail.com.